Concordia's Chamber Choir Plans for February Tour
Published by Brooke Lange 7 months ago on Wed, Feb 15, 2023 4:04 PM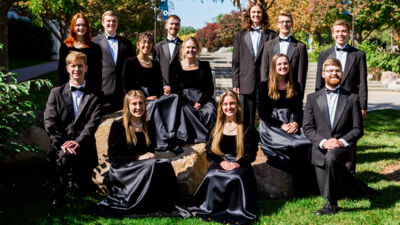 Concordia University, Nebraska's Chamber Choir will travel to Nebraska and Iowa for its performance tour February 23-27.
The 13-voice choir, comprised of mostly music majors, has performed concerts and school assemblies throughout the Midwest including performances at the Nebraska Music Educator's annual conference, the Columbus NCDA Jazz Festival, The Creston, Iowa FoxFest and in the historic Sheldon Concert Hall in St. Louis, Missouri.
For this tour, the University Chamber Choir has planned a concert of traditional and contemporary chamber choral works including music by John Amner, Tomas Luis de Victoria, Daniel Gawthrop, Richard Shepherd, Paul Manz, William Dawson and others. While all the anthems are based on sacred texts, there is a great variety of styles including motets, anthems, folk songs, gospels, and spirituals.
Concordia's chamber choir is directed by Kurt Von Kampen. Von Kampen earned a bachelor's degree in music from Concordia University, Nebraska, a master's degree in choral conducting from Oakland University and a doctorate in choral music education from the University of Nebraska.
Admission to the concerts is free and open to the public.

Members of the Chamber Choir Include:
Hannah Cmeyla, senior, Bay City, Mich.
Kirsten Horne, sophomore, Seward, Neb.
Jessica Landrey, junior, Seward, Neb.
Olivia Leising, senior, Arapahoe, Neb.
Renata Peperkorn, senior, Fort Wayne, Ind.
Alannah Stahl, junior, Saginaw, Mich.
Samuel Dunbar, sophomore, Utica, Neb.
Joshua Jurchen, freshman, Seward, Neb.
Jonathan Landrey, senior, Seward, Neb.
Christoph Marsh, senior, Concordia, Mo.
Nathan Pennington, senior, Lincoln, Neb.
Isaac Weander, junior, Norfolk, Neb.
Caleb Zeckzer, junior, New Haven, Ind.
Performance Tour Itinerary
Thursday, February 23
2:30 Assembly at Heartland Lutheran High School
3900 W Husker Hwy
Grand Island, NE 68803
7:00 Concert at Holy Cross Lutheran Church
3315, 11th Avenue
Kearney, NE 68845
Friday, February 24
2:30 Assembly at Christ Lutheran Church
605 S 5th St.
Norfolk, NE 68701
7:00 Concert at Our Savior Lutheran Church
2420 W Omaha Ave
Norfolk, NE 68701
Saturday, February 25
7:00 Concert at St. Paul's Lutheran Church
239 Frank Street
Council Bluffs, IA
Sunday February 26
8:00 Worship at Divine Shepherd Lutheran Church
15005 Q St.
Omaha, NE
11:00 Worship at Christ Lincoln
4325 Sumner St.
Lincoln, NE 68506
2:00 Concert at Christ Lincoln
Interested in being part of Concordia's music programs? Learn more here.