Concordia Vocal Jazz Choir to tour
Published by Brooke Lange 4 months ago on Wed, May 3, 2023 4:15 PM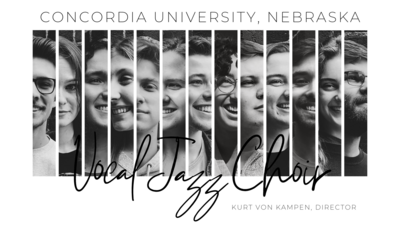 Concordia University's Chamber Choir will travel to Colorado, New Mexico, and Arizona from May 7-May 13 for their vocal jazz tour.
The 13-voice choir, comprised of mostly music majors, has performed concerts and school assemblies throughout the Midwest including performances at the Nebraska Music Educator's annual conference, the Columbus NCDA Jazz Festival, The Creston, Iowa FoxFest and in the historic Sheldon Concert Hall in St. Louis, Missouri.
Concordia's Vocal Jazz choir is directed by Kurt Von Kampen. Von Kampen earned a bachelor's degree in music from Concordia University, Nebraska, a master's degree in choral conducting from Oakland University and a doctorate in choral music education from the University of Nebraska.
Admission to the concerts is free and open to the public.
Members of the Vocal Jazz Choir Include:
Hannah Cmeyla, senior, Bay City, Mich.
Kirsten Horne, sophomore, Seward, Neb.
Jessica Landrey, junior, Seward, Neb.
Olivia Leising, senior, Arapahoe, Neb.
Renata Peperkorn, senior, Fort Wayne, Ind.
Alannah Stahl, junior, Saginaw, Mich.
Samuel Dunbar, sophomore, Utica, Neb.
Joshua Jurchen, freshman, Seward, Neb.
Jonathan Landrey, senior, Seward, Neb.
Christoph Marsh, senior, Concordia, Mo.
Nathan Pennington, senior, Lincoln, Neb.
Isaac Weander, junior, Norfolk, Neb.
Caleb Zeckzer, junior, New Haven, Ind.
Tour Itinerary:
Sunday, May 7
7:30pm Concert at Schoolhouse Theater
19650 Mainstreet
Parker, CO 80138
Monday, May 8
7pm Concert at Grace Lutheran Church
7550 Eubank Blvd NE
Albuquerque, NM 87122
Tuesday, May 9
4pm Concert at Crown of Life Lutheran Church
13131 W Spanish Garden Dr
Sun City West, AZ 85375
Wednesday, May 10
7pm Concert at Grace Lutheran Church
2657 W Horizon Ridge Pkwy
Henderson, NV 89052
Friday, May 12
7pm Concert at Redeemer Lutheran Church
7755 Greenstone Trail
Fort Collins, CO 80525