Concordia University Regional Ambassador Carrie Kober
Published by Olivia Dunklau 1 month ago on Wed, Feb 15, 2023 4:18 PM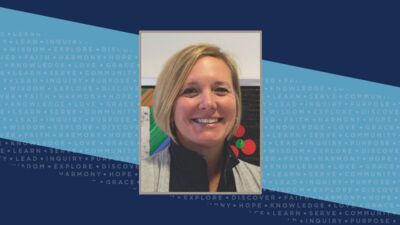 Concordia University, Nebraska has a number of regional ambassadors around the United States that represent the university at events, speak to high school students and others about what's going on at Concordia Nebraska and more. Carrie Kober '97 represents the university in St. Louis and the surrounding areas.
Carrie Kober has served Concordia University, Nebraska as a regional ambassador for three years. A Concordia alumnus that loves her alma mater, Carrie loves sharing the Concordia story with students and their families in the St. Louis area and beyond. She received her Lutheran Teacher Diploma and Bachelor of Science in Elementary Education in 1997 from the university.
"Concordia is a place that has and continues to not only prepare young people for a future job, but through the many experiences, strong community, and Christian leadership prepares young people for a life lived out to serve God and others with the gifts God has granted them," she said. "I grew tremendously in faith, confidence, and skill during my time at Concordia. The Christian friendships that I built are still a very important part of my life."
In addition to representing Concordia Nebraska through appearances at high schools in her region and through other local events, Carrie has had the opportunity to lead several "Road Trip to Concordia" events, bringing high school students to the university to see what makes the university unique.
"The road to Concordia are a way for high school students to learn about and experience Concordia, Nebraska in a fun and interactive way. We take students up for a three to five day trip to meet with professors, admissions, coaches and others," she explained. "They are able to tour campus and the surrounding areas and are fully immersed in the culture of Concordia on their stay. This trip has been a highlight for so many students. I have students that have gone once continue to ask if they can go again. After a trip like this, most students are ready to sign up to go to Concordia. If they end up not going to Concordia, it is usually because of other factors that lead them in another direction."
Carrie currently works with 10 high schools in her region: Lutheran High School South, Lutheran North High School, Lutheran High School St. Charles, Metro East Lutheran High School, Calvary - Jefferson City, Saxony Lutheran High School, St. Paul Lutheran School – Farmington, Christ Our Rock Lutheran High School – Centralia, Christ Our Savior Lutheran High School – Evansville, and Lutheran High School (LuHi) - Springfield.
Carrie said that each year, at least 10 students that she has worked with through unique road trip events and her St. Louis area appearances ultimately chose to attend Concordia Nebraska.
Carrie recalled that her first "Road Trip to Concordia" experience took place in March 2020, just prior to Covid-related shutdowns.
"I had a bus of 35 kids that went on that first trip. Since then, I have taken kids each fall and spring with a total of five trips and one coming in November 2022. I also have had two 8th grade classes come from the area to visit. Students that have been on these trips end up loving Concordia and are often surprised about how much they like it," she said.
When she's not telling others about all of the great things going on at Concordia Nebraska, you'll find Carrie coaching a swim team, substitute teaching or volunteering at her church or area schools. She pointed out that her most important job is mom to her four children, ages 5 to 15, but Carrie also makes time to speaks to classes and groups of all sizes, sharing information about Concordia Nebraska and all the university has to offer students.
"Students are often surprised about what they learn about Concordia and how it might just be the best place for them as they prepare and grow into adulthood," she said. "I urge all Lutheran schools to encourage our young people to consider a Concordia. I hope all Christian parents see the importance in choosing where their children receive their training, learning, and preparation for their life and vocation. Concordia, Nebraska is a Christ-centered school that grows in importance to our Christian community each and every year."
Concordia University, Nebraska currently has regional ambassadors in the St. Louis area, the Rockford, Illinois area, Wisconsin, Colorado, Nevada and Texas. Learn more about road trips and Concordia Nebraska visit days at https://www.cune.edu/visit-campus/visit-day