Concordia University Regional Ambassador Carli Lindeman
Published by Olivia Dunklau 2 weeks ago on Thu, Jan 19, 2023 3:04 PM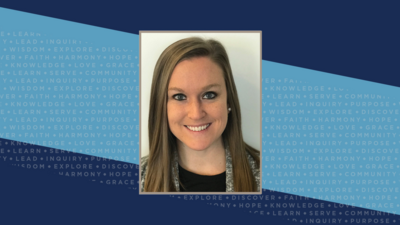 Concordia University, Nebraska has a number of regional ambassadors around the United States that represent the university at events, speak to high school students and others about what's going on at Concordia Nebraska and more. Carli Lindeman '15 represents the university in Colorado and Nevada.
Carli Lindeman studied exercise science at Concordia Nebraska and has served as a regional ambassador for the university for about two years. Representing her alma mater to students and others in Colorado and Nevada, Carli is passionate about sharing the message that Concordia Nebraska is a special place.
"I loved feeling so 'at home' and feeling cared for while attending Concordia Nebraska because it is a small campus which makes it so natural and easy to have those special friendships," she said. "[Concordia is special because of] the relationships you build with students and staff and the faith-filled atmosphere you have on campus."
Carli frequently works with Lutheran High School in Parker, Colorado, telling students about all that Concordia Nebraska has to offer. She's brought several students to the university's beautiful Seward campus through a unique program called "Road Trip to Concordia."
"What a fun and neat way to bring students to campus and have them experience what it's like to be a student at Concordia!" she said. "I love the opportunity we give high school students to talk one-on-one with coaches, directors, professors, and staff members about what makes Concordia Nebraska the special place it is. The road trip is a great way to experience the university in person, which is the best way to see a college!"
Carli looks forward to continuing to spread the word about Concordia Nebraska. She said several students she has interacted with have expressed strong interest in attending the university. She looks forward to continuing to build relationships with students at Lutheran High School and beyond.
"Concordia Nebraska is truly such a special place," she said. "I personally had the best college experience attending Concordia. I have lifelong friendships from there, and I hope that the university brings future students the same happiness it brought me! I love coming back to campus on our road trips because it brings back so many good memories of attending! I think the ambassador program is such a good opportunity for us alumni to show students and tell them about our experience from Concordia and help them on their journey to college!"
Concordia University currently has regional ambassadors in the St. Louis area, the Rockford, Illinois area, Wisconsin, Colorado, Nevada and Texas. Learn more about road trips and Concordia Nebraska visit days at https://www.cune.edu/visit-campus/visit-day