Concordia University, Nebraska to host 26th annual Plum Creek Literacy Festival
Published by Olivia Dunklau 5 days ago on Tue, Sep 20, 2022 4:04 PM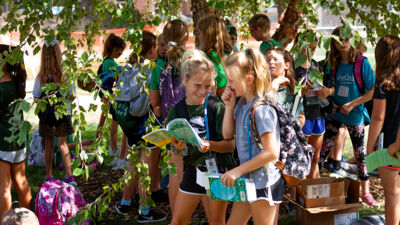 The Plum Creek Children's Literacy Festival will take place September 22-24 on the Concordia campus.
Concordia University, Nebraska will host its 26th annual Plum Creek Literacy Festival September 22-24, 2022. The special event features a children's day with activities and special presentations as well as an adult conference that includes numerous nationally-renowned authors and illustrators.
"This year's festival is a unique collaboration of so many individuals: creators of many different types of books; students, teachers, librarians and book lovers of all ages; and volunteers and sponsors with a heart and passion for literacy," said Dr. Dylan Teut, director of the Plum Creek Festival. "The scope and variety of offerings is so unique and continues to remain a top field trip choice for many classrooms, and a premier choice of professional development for adults. Opportunities for outreach and connecting with so many schools and students is a gift that we are grateful to continue celebrating, and we look forward to seeing the fruition of the work put in to making this festival happen once again."
This year's festival will feature authors and illustrators including Caroline Arnold, Tim Bowers, Tamara Bundy, Maryann Cocca-Leffler, Lulu Delacre, Guy Francis, Keiko Kasza, David Macaulay, Jennifer Nielsen, Shanah Opfer, Jerry Pallotta, Amy Parker, Matthew Reinhart, Pam Muñoz Ryan, Antonio Sacre, Roland Smith, James Solheim, Kerron Stark, Jason Tharp and Jennifer Ward. Literacy experts Dr. Lauren Gatti, James Ginal and Dr. Joan Jacobs will also participate in the event.
For the second year in a row, two authors will gather with children from Nelson Mandela Elementary and four area Omaha elementary schools on September 22 for a satellite festival at Miller Park in Omaha. Hundreds of children will connect with two authors and participate in activities led by students from Concordia's teacher education program. 
Additionally, a special exhibition titled "Our Voice: Celebrating the Coretta Scott King Illustrator Awards," is part of the Plum Creek Literacy Festival and is currently available for viewing at the Marxhausen Gallery of Art on Concordia's campus through September 29. Admission to the Marxhausen Gallery is free and open to the public. 
The award-winning Plum Creek Literacy Festival, founded in 1996, seeks to encourage a love of reading, writing and books by bringing nationally-renowned authors and illustrators to Nebraska. These special guests host interactive workshops and keynotes for school children and adults.
Learn more about the Plum Creek Literacy Festival at cune.edu/plumcreek.