Concordia University, Nebraska Announces Sole Music Therapy Program in the State
Published by Concordia University, Nebraska 6 years ago on Wed, Oct 5, 2016 9:34 AM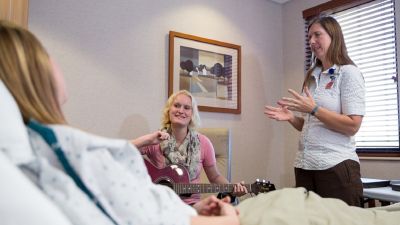 Melody Niemoth and Nicole Jacobs demonstrate the use of music therapy in a clinical setting in Seward, Neb.
Concordia University, Nebraska is pleased to announce its music therapy program has been approved by the American Music Therapy Association (AMTA) as the only institution of higher education in Nebraska to offer a Bachelor of Music degree in music therapy.
"I'm thrilled to learn that our music therapy program has passed the accrediting and approval process," said Nicole Jacobs, director of the music therapy program at Concordia. "Our students will experience a rigorous curriculum that includes both theory and clinical applications in an environment that will prepare them to be expert music therapists while nurturing and growing their musical abilities. By the time students graduate, they will have completed more than 1,000 hours of fieldwork experience and will be eligible to take the board certification exam. We are excited to help more students use their musical talents to serve in ways that will impact the world."
Only academic institutions accredited or affirmed by the National Association of Schools of Music (NASM) are eligible to apply for AMTA approval. NASM accredits institutions, while AMTA approves programs. Concordia University, Nebraska, which has been an accredited, institutional member of NASM since 2003, received approval to offer the degree Bachelor of Music in Music Therapy in July 2016 as part of the reaccreditation of the entire music department. With the reaccredidation, Concordia becomes the only institution in the state of Nebraska and the Concordia University System to offer an in-house music therapy program.
Music therapy is a type of health profession that uses music to fill the cognitive, physical, emotional and social needs of a person in a therapeutic way. Music therapy treatment includes singing, dancing, creating, moving and listening to music.
Professional music therapists work with children and adults of all ages to improve a wide variety of nonmusical goals such as movement, speech and language, memory, attention, emotional expression, pain management and social skills. Music therapists work in hospitals, schools, early intervention programs, elder care facilities and mental health centers all across the country. In addition, many music therapists provide services through the development of diverse private practice clinics in their communities.
"As the only program in Nebraska, it is our hope that residents will remain in the state after graduation," said Jacobs. "There is a great need for music therapists in Nebraska. We get several calls a year from schools and families in central and western Nebraska. Some families wait two years for an assessment."
Interested students can find more information about Concordia Nebraska's music therapy program at cune.edu/music-therapy.