Concordia University, Nebraska announces largest endowment gift in university history
Published by Danielle Luebbe 3 months ago on Fri, Mar 25, 2022 11:30 AM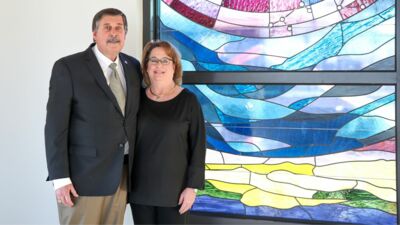 Paul H. and Mary Ann Koehler recently endowed Concordia University, Nebraska's department of business, the largest endowment gift in the university's history.
Concordia University, Nebraska recently announced the endowment of the university's business department by Paul H. and Mary Ann Koehler with a gift of $2.5 million, the largest endowment gift in the history of the university. In recognition of their support, the department has been named the Paul H. and Mary Ann Koehler Department of Business. 
"We chose to endow Concordia's business department specifically because both of us have business backgrounds, and we also both see a great need for having Christian values and ethics involved in conducting business on a day-to-day basis," said Paul Koehler. "We wanted to provide something that would have a lasting impact on the university. We want the business faculty and the administrators at Concordia to create a very dramatic future for the business program." 
Paul Koehler has been part of the Concordia Nebraska community since high school, when he was a member of Concordia High School's last graduating class in 1972. His father, Vernon H. Koehler served as a professor of education at Concordia. Both Paul and Mary Ann graduated from the University of Nebraska-Lincoln (UNL) College of Business. Mary Ann worked for 12 years in the banking industry and 30 years in accounting and business at UNL before retiring in 2019. A CPA, Paul has been affiliated with several accounting firms, including the firm he currently owns in Lincoln, and specializes in government and nonprofit auditing, training and consulting. He also teaches ethical accounting practices to accountants and CPA firms across the country and serves as a guest lecturer at three universities, including Concordia University, Nebraska.  
The business department endowment is the Koehlers' latest gift for Concordia Nebraska. They have also supported the university by establishing an education scholarship endowment, matching gifts to the Concordia Fund and providing the Vernon Koehler Memorial Clock in Founder's Plaza. 
The Koehler business endowment will provide significant ongoing resources to support the department's faculty and academic programs. In addition, it will serve as a funding source for department initiatives, providing students and faculty resources to pursue new opportunities. 
"It's a true blessing," said Jonathon Moberly, dean of the College of Business. "Our goal is to get to a point where Concordia is a nationally recognized destination for students who want to be ethical and entrepreneurial servant-leaders in the business world. The Koehlers' generosity will allow us to give students experiences that they would not be able to get anywhere else. It really is the answer to our prayers."  
The Koehlers were honored at the Concordia Business Luncheon on March 25, 2022, where their historic gift was announced. At the luncheon, Renee Coufal was also presented with Concordia's Outstanding Woman in Business Award for her 40 years of service to Jones Bank and the Seward community. The Outstanding Woman in Business award is presented each year by Concordia University Business Club.