Concordia students travel to Costa Rica for biology study tour
Published by Concordia University, Nebraska 9 years ago on Fri, Apr 26, 2013 6:36 PM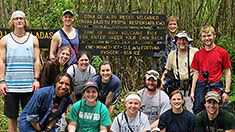 Concordia students visited Poas Volcano National Park on their study tour to Costa Rica. Pictured: Back row, from left: Cole Wilson, Bradley Schick, Ethan Hutton, Dr. Joseph Gubanyi, Marcus Gubanyi; Middle row, from left: Courtney Upmann, Megan Osladil, Emily Fleming, Zackary Warner; Front row, from left: Delilah Kond, Elizabeth Wittig, Melissa Stine, Cassandra Starks and Carson Farr.
A tropical ecology class from Concordia University, Nebraska, visited Costa Rica on an 11-day study tour March 6-16. Led by Dr. Joseph Gubanyi, professor of biology, the group of 13 students studied the biodiversity and characteristics of the country's tropical rainforests.
"Costa Rica is a model nation when it comes to protecting its rainforests," said Gubanyi. "As a result, it is one of the best places in the world to see and study rainforests."
Gubanyi has visited the country more than 10 times and leads study tours every spring. The tours alternate between Costa Rica, where students study rainforests, and Belize, where they study tropical marine biology. Gubanyi also led a tour to Churchill, Manitoba, to study arctic biology last June.
Students met with Gubanyi for eight weeks of classes before leaving for Costa Rica. On the tour, the group spent time hiking rainforest trails, observing plant, animals and ecological patterns. They were able to see and study wild monkeys, bats, toucans, parrots, sloths, iguanas, crocodiles and many other creatures both in the daylight and at night.
The class visited the San Jose area and Poas Volcano National Park before driving to La Selva Biological Station, where it studied lowland tropical wet forests. The group then spent the night at Palo Verde National Park to observe tropical dry rainforests. From there, they traveled to Monteverde to study a cloud forest and spent the night at the Monteverde Tropical Science Center.
The tour and tropical ecology course are designed for students in biology and natural science programs. However, Gubanyi opens the experience to anyone interested in exploring other countries.
Students included:
Carson Farr, Junior, Cambridge, Neb.
Emily Fleming, Senior, Gretna, Neb.
Marcus Gubanyi, Senior, Seward, Neb.
Ethan Hutton, Senior, Norton Shores, Mich.
Delilah Kond, Senior, Seward, Neb.
Megan Osladil, Junior, Howards Grove, Wis.
Bradley Schick, Junior, Meadow Grove, Neb.
Cassandra Starks, Junior, Haigler, Neb.
Melissa Stine, Sophomore, Omaha, Neb.
Courtney Upmann, Junior, Cedar Rapids, Iowa
Zackary Warner, Senior, Lincoln, Neb.
Cole Wilson, Junior, Westminster, Colo.
Elizabeth Wittig, Senior, Saginaw, Mich.