Concordia Speech Team continues strong season
Published by Concordia University, Nebraska 3 years ago on Wed, Jan 23, 2019 11:53 AM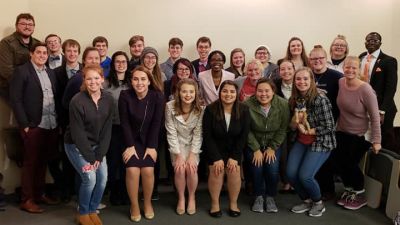 The Concordia Speech Team has already qualified six speakers for the national tournament, which is double the amount of qualifiers from last year's team.
The Concordia University, Nebraska Speech Team has already doubled the number of students who qualified for the national tournament from last year.
Sophomores Jacob Garrison and Malia Ebel qualified for the national tournament during Concordia's annual Sleet and Snow Swing tournament Jan. 12-13, giving Concordia six national qualifiers for the American Forensics Association National Tournament in April. Last year, Concordia qualified three students for the national tournament.
Team members who have qualified for the national tournament as of Jan. 25 and their events are:
Tationa Booker, senior, dramatic interpretation, duo interpretation and prose
Taryn Thomas, junior, informative
Jacob Garrison, sophomore, dramatic interpretation
Malia Ebel, sophomore, impromptu
Philomena Williams, freshman, duo interpretation, poetry and program oral interpretation
Alia Hurst, freshman, program oral interpretation
"Many other students are close to qualifying for nationals and as we add new events for second semester, we are projecting to have our biggest entry at the Nebraska State Tournament in decades," Joe Davis, director of forensics, said.
To qualify for nationals, students must earn three tournament placings equaling eighth or better throughout the speech season. First place finishers receive one point, second place two points and third three points. Each weekend typically provides two opportunities to compete.
There are 14 students on Concordia's traveling team, who are aspiring to qualify for nationals, Davis said. There are 15 additional students who participate with the team, working on their presentation skills and helping with team logistics and running tournaments.
"We don't have the biggest traveling squad, but we have a different physical presence at tournaments than we've ever had before, that's been fun to see," Davis said.
In Davis' first year of running the speech and debate team, he's put a large emphasis on allowing students who may not be at a competitive level have a role on the team.
"We have some people on the team who want to qualify for nationals, make an impact nationally and set these really high competitive goals," Davis said. "We also have students who are either not at that confidence level or that experience level, but I don't think that means they shouldn't get to be around the team and contribute in their own way and learn from it."
Davis said his goal is to cast a wide recruiting net, because there's a role on the team for anyone who is interested. Having an inclusive program is going to help continue to build a positive culture, he said, and word is starting to spread around campus.
"I have learned to love and grow in ways I wouldn't have without speech," said senior Tationa Booker, who qualified for nationals before Christmas break.
Creating friendships within the team and by meeting people on the speech circuit is freshman Alia Hurst's favorite part of being on the team.
"We're trying to really create an overall program, where the competitive goals are great, but it's the entire atmosphere of students that are able to benefit from listening to others and then understanding the power that their voice has," Davis said.
Much like other programs on campus, scholarships are available for speech team members. These scholarships are available for both types of students, Davis said. The team includes pre-seminary students who are looking to build up their public speaking skills to reach their future flock, as well as students who feel they operate within the margins of society and find their voice in speech, Davis said.
"If you can get into school and know how to talk, I'm happy to reward you and find a way to contribute to the speech team," he said. "What I think is so cool about speech is that anybody from anywhere can get up and say something. I'm happy to give them a financial commitment for that, if they're willing to put in the work and be passionate about what they're saying. That's all I need for them to contribute to what our team wants to represent."
Speech and debate team's upcoming schedule
Jan. 25-26 – at University of Nebraska-Lincoln
Feb. 9 – Nebraska State Tournament at UNL
Feb. 16-17 – at University of Nebraska-Omaha
Feb. 23-24 – at Hastings College
March 2-3 – at Doane University
March 13-17 – Christian National Tournament at Kansas Wesleyan
April 3-9 – American Forensics Association National Tournament at University of Alabama