Concordia speech and debate team returns to in-person competition
Published by Logan Tuttle 7 months ago on Wed, Oct 13, 2021 11:52 AM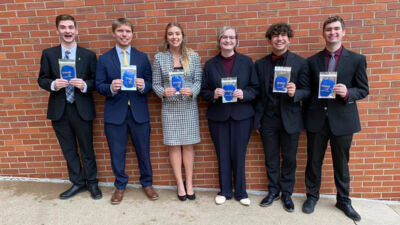 Members of Concordia's speech and debate team who competed at South Dakota State University on Oct. 9 were, from left: Thomas Welch, Jayson Klaumann, Sabrina Reed, Zipporah Johnson, Tristin Kinderknecht and Alex Vieselmeyer.
Concordia's speech and debate team competed in its first in-person tournament since March 2020, traveling to South Dakota State University in Brookings on Oct. 9.
"Although we took a smaller group to compete, it was a wonderful experience as our team was able to bond and each team member advanced to finals in at least one of their events," Joe Davis, director of forensics, said.
The tournament also marked the first official competition for Concordia's debate program, with Thomas Welch, a sophomore from Jefferson City, Missouri and Zipporah Johnson, a junior from Hastings, Nebraska, reaching the semi-finals in parliamentary debate.
"Having the opportunity to compete in person again after 18 months makes every single roadblock leading up to now worth it," Johnson said. "I was very grateful to spend quality time with teammates, catch up with fellow competitors I hadn't seen in a while, and share a really special message with those around me!
Tristin Kinderknecht, a sophomore from Salina, Kansas, finished second in impromptu speaking.
"I enjoyed being able to go out and enjoy not only talking to others in person but also spending time with teammates," Kinderknecht said. "It completely changes the experience that you have as a team and the bonds that we made as a whole.
Sabrina Reed, a junior from Crete, Nebraska, finished third in poetry, while Alex Vieselmeyer, a sophomore from Amherst, Colorado, was fourth in extemporaneous speaking and Jayson Klaumann, a junior from Fairbury, Nebraska, was sixth in informational speaking.