Concordia recognizes faculty and staff for service to the university and LCMS
Published by Concordia University, Nebraska 7 months ago on Mon, Feb 10, 2020 2:10 PM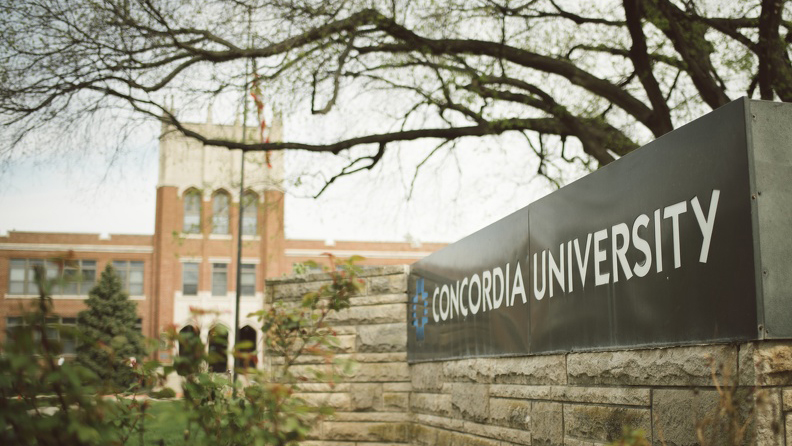 On Monday, Feb. 10, Concordia University, Nebraska recognized milestones of faithful service for faculty and staff, as well as commissioned and ordained ministers of The Lutheran Church – Missouri Synod (LCMS) at a special anniversary service.
Those being honored were recognized during a special chapel service in the Weller Chapel Auditorium on Concordia's campus.
"Concordia University, Nebraska's greatest resource is the partners in ministry who serve our students so capably every day," said Dr. Tim Preuss, Concordia provost. "It is a joy to celebrate those who are celebrating milestone anniversaries of service to Concordia and to the Lutheran Church—Missouri Synod. We thank God for each of their talents and pray that God will continue to bless their efforts to support our students as they are equipped to learn, serve and lead in the church and world."
Among the especially esteemed faculty was Rev. Russell Sommerfeld, who is celebrating 40 years of service as a commissioned minister of the Gospel in the LCMS.
Sommerfeld joined Concordia's faculty in 2016 as an assistant professor of theology. Three years later, he was named Concordia's interim president.
"Serving the Lord's calling as a professor at Concordia University, Nebraska is a privilege," said Sommerfeld. "It is an honor and responsibility to assist in preparing students to be servant leaders for God's Church and world. I also thoroughly enjoy the collegiality of faculty and staff as together we deliver a distinctive Lutheran education that increasingly engages and influences the world."
Sommerfeld said he finds it rewarding to engage students with the experiences God has given him in his years of serving Him and His church.
"I love serving a university in a small town and rural area where we educate students from different backgrounds for a variety of vocations," said Sommerfeld. "I am also stimulated by the biblical and academic growth I am experiencing while teaching the next generation of servant leaders."
Prior to joining Concordia, Sommerfeld served 12 years as president of the LCMS Nebraska District. Before leading the LCMS Nebraska District, Sommerfeld served as a pastor at congregations in Canton and Moundridge, Kansas, as well as Arapahoe and Kearney, Nebraska for 23 years.
The list of employees includes (in descending years of service, then alphabetically by last name):
Dr. Kent Einspahr, computing services, 40 years
Dr. Vicki Boye, health and human performance, 30 years
Connie Butler, human resources, 30 years
Kay Rohren, art and natural and computer science, 30 years
Dr. Robert Hermann, natural and computer science, 20 years
Rev. Dr. Paul Holtorf, theology, 20 years
Rod Kalkwarf, Aramark, 20 years
Dr. Kathy Miller, human and social sciences, 20 years
Daniel Redmond, Aramark, 20 years
Dr. Brian Albright, business, math and natural and computer science, 15 years
Diana Boring, accounting, finance and operations, 15 years
Gene Brooks, student affairs, 15 years
Dr. C. Matthew Phillips, history, geography, intercultural studies and modern foreign language, 15 years
Curtis Sherman, accounting, finance and operations, 15 years
Dr. Annette Anschutz, education, 10 years
Dr. Nolan Harms, health and human performance, 10 years
Todd Kallenbach, Chartwells, 10 years
Prof. Donald Robson, art, 10 years
Evan Balleweg, Center for Liturgical Art, 5 years
Reginald Corbin, athletics, 5 years
Ryan Dupic, athletics, 5 years
Ken Franks, Aramark, 5 years
Dr. Jennifer Fruend, natural and computer sciences, 5 years
Gerald Henthorn, Aramark, 5 years
Dr. Jamie Hink, history, geography, intercultural studies and modern foreign language, 5 years
Terry Kehm, Aramark, 5 years
Lance Korell, athletics, 5 years
Bethany Landrey, academic resource center, 5 years
Peter Landrey, classroom innovation and online education, 5 years
Prof. Christopher Luther, athletics and health and human performance, 5 years
Susan Mehl, student financial services, 5 years
Jonathon Moberly, business and math, 5 years
Matthew Myers, academic resource center and history, geography, intercultural studies and modern foreign language, 5 years
Dr. Kristen Nugent, education, 5 years
Christopher Read, Aramark, 5 years
Jessica Schauer, Aramark, 5 years
Matthew Schranz, computing services, 5 years
Stacy Tamerius, English, communication and theatre arts, 5 years
The list of ordained and commissioned ministers celebrating anniversaries of service to the Lutheran Church – Missouri Synod includes (in descending years of service, then alphabetically by last name):
Dr. David Held, 60 years
Dr. John Suhr, 60 years
Prof. William Wolfram, 60 years
Rev. Dr. Marvin Bergman, 60 years
Dr. Ronald Bork, 50 years
Dr. Stanley Obermueller, 50 years
Prof. Betty Galen, 45 years
Rev. Russell Sommerfeld, 40 years
Rev. Terence Groth, 35 years
Scott Seevers, 20 years
Dr. John Jurchen, 15 years
Dr. Anna Boriack, 10 years