Concordia Nebraska hires Robert D. Cody as assistant professor of music
Published by Danielle Luebbe 3 months ago on Tue, Feb 21, 2023 10:00 AM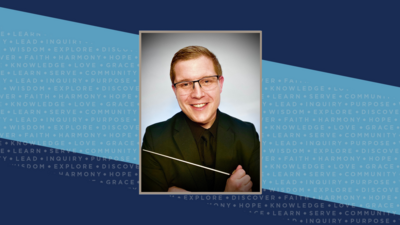 Concordia University, Nebraska today announced that the university has hired alumnus Robert D. Cody to serve as assistant professor of music. In this position, Cody will be responsible for growing and developing a high-quality instrumental music program for the university. In addition, he will conduct the University Concert Band and other smaller ensembles, cultivate and maintain relationships with public and private high school teachers, teach select courses within the music education curriculum, and coordinate with adjunct faculty who will conduct smaller instrumental ensembles and teach private lessons.
"We are pleased to welcome Mr. Cody back to the Concordia Nebraska campus…this time as a faculty member," said Concordia Nebraska Provost Dr. Tim Preuss. "Our outstanding music department prepares students for various vocations glorifying God through the study and performance of music.  Mr. Cody's solid training from this university paired with his varied music education and performance experience make him a natural fit for this position."
Cody holds a master's degree in music education with conducting emphasis from Colorado State University and a bachelor's degree in K-12 music education from Concordia University, Nebraska.  He most recently served as worship arts director for St. Lorenz Evangelical Lutheran Church in Frankenmuth, Michigan, where he oversaw all instrumentational and vocal music for worship, directed wind, string and brass players, coordinated worship schedules, arranged chapel musicians, taught middle school choir and more.  He has also served as director of music at Living Word Lutheran High School in Jackson, Wisconsin, was a band conductor for the Lakeshore Symphonic Band in Cedarburg, Wisconsin and served as a guest conductor for the Hartford City Band in Hartford, Wisconsin.  He has also offered private trumpet lessons to middle school and high school students for a number of years.
"Words cannot express how honored I am to assume this role. I take to heart the responsibility I have been given and pray for the Lord's strength and wisdom to lead and serve in your midst," said Cody. "Standing on the shoulders of those before us, we will step boldly into this next era of instrumental music at Concordia. I call on students, present and future, as well alumni and friends of Concordia to partner with me in this work of continuing to build a renowned instrumental music program through which God is glorified and the Gospel is boldly proclaimed to our students, community, and world."