Concordia Nebraska announces 2023-2024 Eunice Goldgrabe Health and Human Performance Scholarship Winners
Published by Amy Crawford 2 weeks ago on Mon, Nov 20, 2023 1:13 PM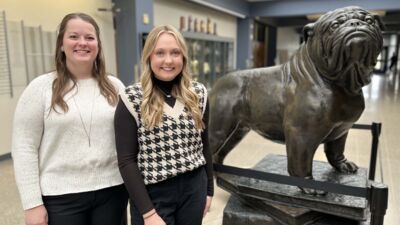 (From left to right) Emily Morse and Lexis Haney were the Eunice Goldgrabe recipients this year.
Concordia University, Nebraska today announced that senior Emily Morse of Council Bluffs, Iowa, and senior Lexis Haney of Dwight, Nebraska have been named the 2023-2024 recipients of the Eunice Goldgrabe Health and Human Performance (HHP) Scholarship.
The scholarship is annually given to those who lead a lifestyle deemed exemplary in the HHP Department, and honors the legacy and service of professor emeritus Dr. Eunice Goldgrabe.
"Emily and Lexi are very deserving recipients of this honor. It has been a joy to see each of them grow in their knowledge and abilities within their chosen major of exercise science. Emily and Lexi both have aspirations of attending professional school in occupational and physical therapy, respectively. I look forward to following their academic and personal achievements in the years to come," said Dr. Nolan Harms, Associate Professor of Health and Human Performance and Chair of the Health and Human Performance Department. "Congratulations to these outstanding students!"
Haney said she was honored to be chosen to receive the scholarship.
"Throughout my time at Concordia University Nebraska, I have grown in both knowledge and faith with the support of faculty, staff and students around campus," she said. "I am so grateful for everything that Concordia has provided me, and I am thankful I've been pushed to my fullest potential. After graduation I plan to attend physical therapy school and eventually attain my doctorate in physical therapy. This would have never been possible without the support I received during my time at the university."
Morse said she is thankful for the support and encouragement she has received at the university.
"Concordia Nebraska has provided me with multiple opportunities to advance my education and strengthen my faith throughout my time here," she said. "The support from the faculty, staff, and students at Concordia Nebraska is amazing, as they have helped shape me into who I am today! I am extremely grateful to have been chosen for this scholarship and am so thankful for all that Concordia has offered. After graduation, I plan to go to occupational therapy school and obtain my doctorate."
Are you interested in learning more about the health and human performance department at Concordia Nebraska? Discover the many opportunities available here.