Concordia nationally recognized for excellence in teacher preparation
Published by Concordia University, Nebraska 2 years ago on Thu, Dec 19, 2019 8:54 AM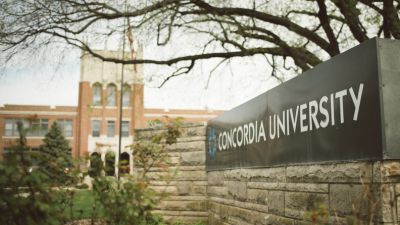 Concordia's initial educator preparation programs recently received accreditation from the sole nationally recognized accrediting body for educator preparation.
Concordia University, Nebraska's initial educator preparation programs recently received a more rigorous accreditation status from the Council for the Accreditation of Educator Preparation (CAEP), the sole nationally recognized accrediting body for educator preparation.
"Receiving this national accreditation from CAEP is a testament to how Concordia equips future teachers for their vocations through a rigorous program, where they are fully prepared to serve and lead in God's church and world," said Dr. Tim Preuss, Concordia provost.
Concordia's initial educator programs, accredited by the National Council For Accreditation of Teacher Education (NCATE) since 1961, are those that lead to a student's first teaching certificate. This includes all undergraduate programs and the master's in early childhood inclusive education program.
"CAEP is the highest level of quality for educator prep programs and it serves our graduates well that they have completed a program that is accredited by CAEP," said Dr. Lorinda Sankey, dean of Concordia's College of Education. "Schools in Nebraska and across the country who employ our graduates have even more assurance that our students have completed a rigorous preparation program."
CAEP, created in 2010 from the consolidation of NCATE and the Teacher Education Accreditation Council (TEAC), is a unified accreditation system intent on raising the performance of all providers focused on educator preparation. Approximately 800 educator preparation providers participate in the CAEP accreditation system, including some which are previously accredited through former standards.
"Concordia University, Nebraska is among select institutions with a long history of meeting external requirements that demonstrate the quality and the rigor of their education programs," said Sankey.
Educator preparation providers seeking accreditation from CAEP must pass peer review on five standards, which are more demanding than NCATE, especially in the areas of graduates' teaching performance and the continual use of data to inform program improvement decisions.
To meet the increased rigor of CAEP, Concordia's undergraduate education faculty revised the curriculum for the university's education programs in 2016-17 and revisions were implemented in 2017-18. Components of the revision included courses in assessment, integrated applications of technology, focus on research-based strategies and interventions, strengthening of field experiences and methods courses prior to student teaching, new student teaching assessments and implementation of systems for using data to improve programs.