Concordia launches M.S. in Computer Science
Published by Concordia University, Nebraska 7 years ago on Thu, Aug 6, 2015 10:40 AM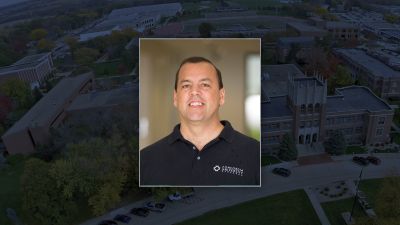 Frederick Donovan, Concordia University, Nebraska's director of the Master of Science in Computer Science program
Concordia has launched a Master of Science in Computer Science program, providing an innovative online graduate experience in computer science. A custom-designed concentration in cyber operations has been developed to complement the program, addressing the increasing demand to defend against the international tide of cyber security crimes frequently reported in the news.
Concordia's fully online master's degree will help students develop expertise in many areas, including reverse-engineering malware, a specialized skill that is in great demand by governmental, financial and high-tech organizations. Classwork is lab-based and includes computer science theory coupled with comprehensive training in methods and techniques that have been used to exploit or can be used to defend against real-world attacks, such as the lessons learned from the recent Sony Pictures Entertainment hack.
Closely following the academic requirements stipulated by the National Security Agency (NSA) for designation as a Center of Academic Excellence (CAE) in Cyber Operations, Concordia's graduate program provides a comprehensive and universally applicable computer science graduate education through its core curriculum.
"It's a very intense, unique and applicable program for today's working computer science professionals," said Frederick Donovan, Concordia Nebraska's director of the graduate computer science program. "In today's competitive technology environments, workers need to know more than just how to program. Our five core classes build upon an undergraduate level of computer science and focus on the skills and knowledge needed to assess network environments and disparate hardware and software applications. We will teach students how to analyze network-level and system-level attacks and design defenses implemented with the appropriate level of security."
One of the program's core courses has a focus in low-level programming, which leads into a subsequent course with specialized training in reverse-engineering malware. According to Donovan, reverse-engineering helps set Concordia's program apart from most other MSCS programs and is intended to address the current industry void in malware analysis skills.
"Hands-on training is an important part of the program and will provide graduates a proficiency to pinpoint security vulnerabilities and minimize unauthorized access and damage," said Donovan. "Our graduates will not only be taught best practices in cyber defense that follow the latest NSA protocols, but they will also learn complex details about programming integration and other critical knowledge units. They will be able to adapt to and protect virtually any cyber environment they manage, making program graduates desirable as cyber operations experts for almost any organization."
The M.S. in Computer Science is a 30-credit online degree program, featuring a five-course core progression followed by five courses of cyber operations coursework. General information about the degree can be found at online.cune.edu/technology/masters/. Specific details about the cyber operations concentration can be found at online.cune.edu/technology/masters/cs-computer-network-security/.