Concordia launches criminal justice as degree program
Published by Concordia University, Nebraska 8 years ago on Fri, Aug 29, 2014 11:11 AM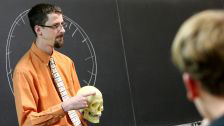 Concordia's social sciences department has expanded the criminal justice program to offer a Bachelor of Arts degree in criminal justice. The academic area was previously only offered as a minor.
"I am most excited about the program because we're offering something that many of our students have been asking for. There is a lot of growth potential in this major," said Dr. Timothy Huntington, associate professor of biology and criminal justice.
The degree requires 36 credit hours of study in areas such as criminology, ethics, law enforcement and the American legal system. A variety of electives are offered within the major including photography, forensic science, social problems and psychology.
A minor in criminal justice requires completion of 18 credit hours. Both a major and a minor require an internship.
"It's always exciting to teach classes that students are genuinely interested in that will afford them real-world critical thinking skills and make them better citizens and more aware of our American legal system," Huntington said.
A degree in criminal justice can help students work as a police officer, paralegal, probation officer, detective, security manager or social worker in a correctional facility among many other possibilities.
Huntington, the head of the program, is one of just 15 board-certified forensic entomologists, an insect expert who consults on and testifies in high-profile criminal cases. He consulted on the Casey Anthony trial, along with more than 100 death investigations spanning 13 states and four countries.