Concordia integrates iPad tablets into teacher education program classes
Published by Concordia University, Nebraska 7 years ago on Mon, Apr 28, 2014 11:08 AM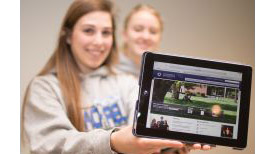 Hannah Uden and Michala Maurer are among the teacher education students who will use iPad tablets in more of their coursework starting in the fall 2014 semester.
Concordia students will begin using iPad tablets in nearly all teacher education program courses starting with the fall 2014 semester. All but the entry-level education course will require use of an iPad.
"The teachers we graduate need to be ready for the changing classrooms they will face," said Concordia Nebraska Provost Dr. Jenny Mueller-Roebke. "Computing is mobile now, non-desktop. School districts are increasingly using tablet technology to enhance learning opportunities for their students, in many cases equipping every student with an iPad tablet."
According to the Nebraska Department of Education, nearly 28,000 mobile devices were used within 247 public school districts in Nebraska during the 2012-2013 school year. Of those devices, 94.3% were Apple iOS devices such as an iPad, iPod or iPhone.
Concordia Nebraska leaders consulted with other higher education professionals, teacher preparation programs, school administrators and teachers and multiple tablet manufacturers to assess the need to adopt tablet technology into its own curriculum.
"We are so thankful that Concordia is integrating more mobile technology instruction into its teacher education program," said Craig Badura, technology integration specialist for Aurora Public Schools in Aurora, Neb. "Many schools like ours will continue to integrate technology into classrooms to best meet the varying needs of our students, and it is critical that graduating teachers are comfortable and understand how to efficiently incorporate technology into their future classrooms."
Concordia Nebraska faculty plan to integrate mobile technology use progressively over the next several academic years.
"Our faculty are developing strategies that support technology use as a consistent part of our teacher preparation program while continuing to enhance other key attributes of our education students," said Concordia Nebraska Dean of the College of Education Ron Bork. "We seek to develop well-rounded teachers who not only have technological knowledge, but also an in-depth understanding of pedagogy, their content area specialties and other tools for teaching in the classroom. Most importantly, we strive to prepare candidates who exemplify Christ-like leaders."
Students may purchase a recommended iPad through the university. Concordia Nebraska's Student Financial Services office will work closely with families who wish to purchase an iPad through Concordia to explore options for covering the cost.