Concordia Hosts 2022 High School Geography Bowl
Published by Brooke Lange 2 months ago on Mon, Nov 7, 2022 2:27 PM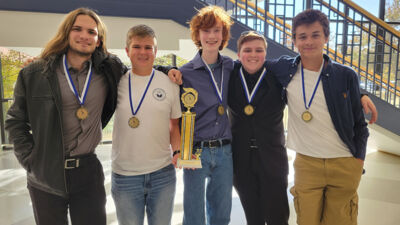 Champions of the middle division from Seward High School celebrate their winnings
Early in October, Concordia University, Nebraska hosted its 7th annual History and Geography Bowl. There were 40 teams from 22 different Nebraska schools, bringing around 200 high school students to Concordia's campus.
The purpose of the bowl is twofold. One of the purposes is to get students to Concordia. Joel Helmer, professor of geography and main organizer of the bowl attributes the success of the bowl to the environment that Concordia creates. "We were full this year. Every year we have a waiting list of schools. They love coming to Concordia," said Helmer.
The teams were divided into small, medium and large schools. They were then placed into brackets, where they competed and moved on to the championship. There were winners of each division, but there's something to be said for the act of learning throughout the day.
The other purpose is just to enjoy a day of academic challenges, for the Concordia students staffing the bowl, and for the students participating. Readers for the bowl included students majoring and minoring in history and geography. Micah Schultz, a senior history education major in the social studies department spoke about these intangible advantages. "The quiz bowl was a blast. It's so cool to see young people who care about learning so much. I'm grateful that I got to be part of the day."