Concordia donates mattresses to nonprofit on Pine Ridge Reservation
Published by Logan Tuttle 2 months ago on Wed, Jul 14, 2021 7:20 AM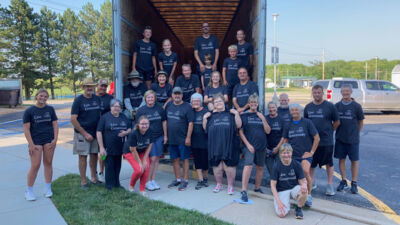 Members of Faith Lutheran Church and Seward United Methodist Church helped to load mattresses that were donated by Concordia to Re-Member, a nonprofit volunteer organization on the Pine Ridge Indian Reservation.
Earlier this month, Concordia University donated 68 residence hall mattresses to Re-Member, a nonprofit volunteer organization on the Pine Ridge Indian Reservation in South Dakota.
Re-Member, which works with the Oglala Lakota Nation to improve the quality of reservation life through relationships, shared resources and volunteer services, will use the mattresses for children's bunk beds that the organization built.
Although the mattresses were donated by Concordia, loading them on July 8 was a group effort, with 33 volunteers from Faith Lutheran Church in Seward and Seward United Methodist Church showing up to help.
"The fact that so many people showed up to help meant a lot and made it extra special," Dr. Kathy Miller, professor of sociology, said. "The work went quickly and connected people in something bigger than us. It was a blessing to be a part of it."
Faith Lutheran and Seward United Methodist Churches helped to donate sheets, pillows and quilts to accompany the mattresses, in addition to funds, hygiene products, socks, garden tools and clothes for the organization. The garden tools will be used for a project Re-Member is doing with South Dakota State University to teach gardening and increase food sustainability. A portion of the funds donated to the organization will be used to build the bunk beds, which cost about $200 each, in addition to outhouses, which cost $250 each to build, Miller said.
The semi-truck used to deliver the goods was donated by Ben and Amy Benson from Big Cob Hybrids, located in Seward. Jon Eberspacher and his son Josh, of Beaver Crossing, drove the truck to Re-Member on July 9.
"Concordia has been donating mattresses each year to different organizations for the last nine years," Miller said. "It's a great way to help others. Especially for this year's donation, God was definitely at work to bring everyone together."