Concordia Catalyst Competition expands in second year
Published by Logan Tuttle 1 year ago on Tue, Aug 10, 2021 1:10 PM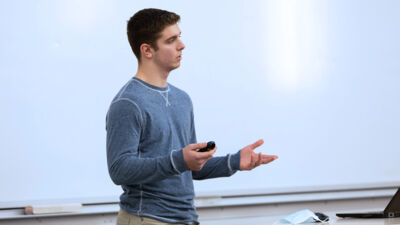 Karsten McCarter of Elm Creek, Nebraska, presents his team's business, KC Feed, during the 2021 Concordia Catalyst Competition.
After its debut last year within the agricultural science program, the 2021 version of the Concordia Catalyst Competition will be expanded to include business students who have aspirations of becoming entrepreneurs.
"With the success of last year's event, it was only natural to bring in the College of Business and offer these experiences to as many students who have an entrepreneurial spirit as possible," Dr. Dennis Brink, professor of agricultural science, said. "We are looking forward to this collaboration and to provide more opportunities for our students to hone their entrepreneurial skills."
Throughout the Fall 2021 semester, students will hear from agricultural commodity groups about the agribusiness landscape and work with business mentors from the Seward community and beyond to refine their business plans. At the end of the semester, teams will pitch their business plans to a panel of judges, who will award the top finishers with prizes to help them turn their plan into a reality.
"We're excited for our students to hone their entrepreneurship skills and get a first-hand look at what it takes to build a successful business plan," Jonathon Moberly, dean of the College of Business, said.
Teaching entrepreneurship in college has become even more important to equip students for their vocations after graduation. According to a recent survey conducted by EY Ripples and JA Worldwide of 6,000 active and former JA Worldwide participants born between 1997 and 2007, 53% hope to run their own business within the next 10 years. Additionally, of those 6,000 survey respondents, 65% said they expect to be running their own business in 10 years.
For more information about the event, or if you would like to serve as a mentor, please contact Dennis Brink. More details will be published as the event gets closer.