Concordia alumnae parish workers receive 2021 LCMS Nebraska District honors
Published by Logan Tuttle 1 year ago on Mon, Jan 24, 2022 1:26 PM
At the Lutheran Church—Missouri Synod Nebraska District All Professional Church Workers and Educators Conferences Oct. 21-22, a group of Concordia alums were recognized for their faithful leadership and dedication to their respective schools and/or congregations.
In addition to the three alums below, David Kumm '01, principal at Trinity Lutheran School in Lincoln, Neb., was honored as Administrator of the Year.
For more information about the District awards, please visit the LCMS Nebraska District's website.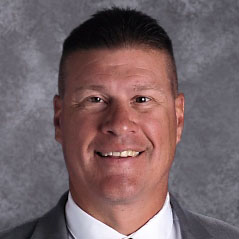 Shepherd of the Year - Rev. Brad Birtell '88
Senior Pastor
St. John Lutheran Church, Columbus, Neb.

Excerpts from his nomination read:
"Rev. Birtell is passionate about Lutheran education and tirelessly promotes all Lutheran education, not only for St. John's but also Concordia University, Nebraska, and Concordia Seminary, St. Louis. His actions and influence match his words: St. John's, part of a very small, rural community, has sent over 40 graduates to CUNE in the past 20 years."
"He is visible before, during, and after the school day and has a great rapport with the children. He is very interactive with the staff and students."
"He is a fantastic leader that helps our youth grow in their faith, starting with his hands-on work in confirmation, continuing through weekly high school youth group, and continuing into college with mission trips. He is the definition of a School Shepherd—not just for our school, but for the entire community."

What does it mean to you to be recognized with this honor?
To be honest I was shocked but also very humbled. I have been so blessed to serve in Lutheran Schools my entire ministry.

Where did your passion for your vocation start?
My dad was an incredible teacher who truly cared about the kids God entrusted to his care. The way my dad lived out his faith really inspired me to want to serve our Lord in His Church.

How did Concordia help equip you?
My time at Concordia literally changed my life. Professors Ken Block and Bill Wolfram were such incredible models of servant leadership for me to model my life and ministry after.
Once again, I am humbled to receive this reward. I want to thank the incredible staff that I have been blessed to partner with in the Gospel. I want to thank the kids who challenge my faith and life daily. I want to thank my wife Christie who joyfully serves with me. Above all, I want to thank Jesus who makes all of this possible out of His amazing grace.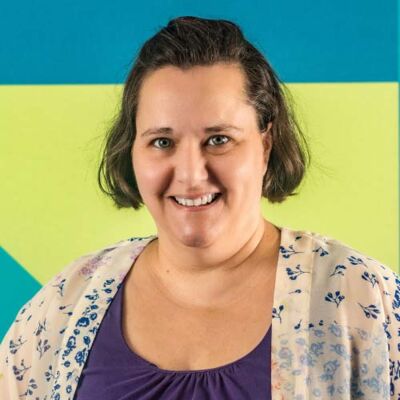 Elementary Educator of the Year - Doni Douglass (Colloquy '09)
First-grade teacher
Christ Lutheran School, Lincoln, Neb.
Excerpts from her nomination read:
"In the classroom or out, she makes learning interesting and fun, while ensuring her kids' roots are in Christ."
"When the school closed due to COVID, her remote teaching was unmatched…and she still found ways to make the kids feel connected and special while at home."
"Doni strives to provide her students with a faith-filled experience."

What does it mean to you to be recognized with this honor?
I am not one who wants recognition for a job that I feel called to do out of love. However, I was nominated for this award by mothers of my "COVID kids," the class I lost without warning. April 12th was a normal Thursday and that night was to be our STREAMS Fair. We were so excited! The kids and I had spent an hour preparing our classroom for guests with our projects. I didn't even say "goodbye" that afternoon. I just told them "see you tonight!" I had no idea that 30 minutes later, we would cancel our STREAMS Fair, and the next morning, cancel school in person for the rest of the year.
It was a hard loss that was devastating to both my students and me. The adjustment to an online classroom was hard, but we learned together and did as much as we could to be together as a class so we could have contact with one another as well as for learning. I know the parents saw what was happening, but for them to recognize that it was out of the ordinary and took great effort to rethink how to teach my littles virtually so they could best learn was greatly appreciated. I was also humbled by their comments as they took time to point out how much I care for these students, as if they were my own. I love each of them so very much, and still have contact with most of my past students as well, which makes me feel very old sometimes.

Where did your passion for your vocation start?
I always wanted to be a teacher from my first day in kindergarten. I attended the University of Nebraska-Lincoln and started out in Elementary Ed, but along the way, I became interested in Psychology. I didn't really know where God wanted me to be in my life at that time. Eventually, I found God calling me back to Elementary Education. Three years into my career, my sister-in-law told me of a position at Christ Lincoln Schools. I didn't even listen because I did not feel qualified to teach in a Lutheran School as I didn't attend a Concordia University for training. But God wasn't done with me. He kept encouraging my sister-in-law to plant the seed in me. During my fourth year at another school, my sister-in-law again called me and encouraged me to apply. I was resisting the call so much, that I said no a second time. She called me a few weeks later to see if I'd be interested in teaching the summer school program. I needed a summer job, so I applied. The next week, Principal Linda Becken called me and set up an interview for the summer program AND the elementary teaching position. God was determined this was where I was supposed to be, and of course, He was right!

How did Concordia help equip you?
I was blessed to enter into the Colloquy Program through Concordia and it was the most powerful, and valuable experience of my life. I learned so much, but I grew so much in my faith as well. I felt as if the missing piece I didn't even know was missing finally fell into place. Without the Colloquy Program, I'm sure I could have taught here at Christ Lincoln School, but I'm not sure I would have as much passion as I do about WHAT I teach and WHY I teach. My purpose is not just to educate the littles that pass through my classroom, but to help mold them, water the seeds of faith within them, and encourage them to be courageous in their faith as they leave my room. I may only have them for nine months, but I know my impact is in there somewhere and someday, they will blossom. If I'm lucky, I get to see the results and cheer them on as they grow into the adult Children of God entering the world.

Is there anything else people should know?
Never underestimate the impact of being fun and silly in the classroom. Those are the memories students leave with and come back to you and say "You're still my favorite teacher Mrs. D," 16-plus years later.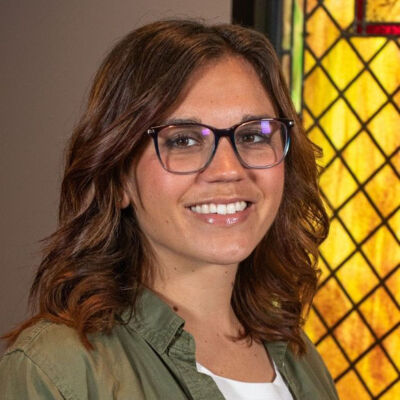 Parish Worker of the Year - Christine Ekberg '09
Director of Family Life
Our Savior Lutheran Church, Norfolk, Neb.

Excerpts from her nomination read:
"Christine is dedicated not just to youth ministry, but to the families at Our Savior. She makes it easy for volunteers to use their gifts to point people to Christ. She loves the youth and desires for them to know their Lord and Savior."
"She is one of the hardest workers I know… She is someone I know I can come to at any time with questions about work, about being a parent, or about any struggle."
"She saw potential in me as a youth when maybe I didn't see it myself, which challenged me, helped me grow, and spoke volumes to me, even to this day."

What does it mean to you to be recognized with this honor?
I was completely shocked, honored and humbled by this award. God has truly blessed me with an amazing volunteer base, families and staff where we all can point families to Christ in so many ways. This award might have my name on it, but is truly a recognition of how God is working through so many people at Our Savior and in the Norfolk community. The growth of ministry at Our Savior is truly a representation of God's presents and work.

Where did your passion for your vocation start?
I have always had a desire to work in youth ministry from a young age (in my junior high and high school years). That was a time in my life where being connected to the church really gave me a purpose and helped me grow in my faith and in my gifts God gave me. Going to Concordia in the DCE program continued to fuel my passion through the DCE classes and my peers. But to be honest my passion grew more once I was working with God's children more one on one in a church setting. Working with parents and youth over the last 13 years continues to drive me to point people to Christ. When you see the struggles and joys people go through and how God uses them to grow them in a relationship with Him that drives me daily to keep sharing the good news. My desire has grown to work with more parents, adults and women's ministry as well over the years.

How did Concordia help equip you?
The DCE program, classes and professors, created a great experience and environment for me to learn about ministry at a congregation. But the relationships with peers and professors have also benefitted me over my years in ministry as those friendships have grown and those people have remained a solid ground for me to bounce ideas off of, as well as cry and share joys with. I am thankful for those relationships.

Is there anything else people should know?
God is working through His people every day. Whether that is in children, youth or adult ministry God continues to be active and working at churches and throughout every community. Keep on sharing the good news of Jesus with others!