Class of 1964 celebrates golden reunion at Concordia University, Nebraska
Published by Concordia University, Nebraska 7 years ago on Thu, May 8, 2014 10:39 AM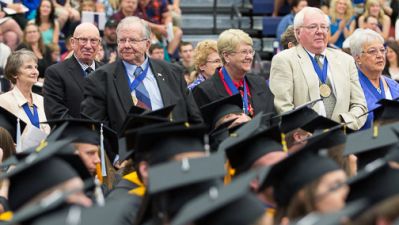 Members reconnect 50 years after graduating from Concordia Teachers College
The class of 1964 reunited for its 50th anniversary May 8-11 as part of Concordia's commencement activities. The class of 1964 led the commencement processional on May 10 and was recognized during the ceremony.
"The Golden Reunion celebration is one of the best examples of how alumni extend their Concordia experience as they cherish their memories and relationships and make new ones," Adam Hengeveld, director of alumni and university relations, said. "They also have served as quite the example, as a whole class, of what it means to serve God and his kingdom, but also as generous supporters of the mission and ministry of Concordia."
Social gatherings celebrated the class's anniversary on both Thursday and Saturday evenings. Class members were honored at a luncheon with current graduates on Friday and at a dinner with Concordia President Rev. Dr. Brian Friedrich prior to the baccalaureate service on Friday night.
"Although they all graduated from Concordia Teachers College, there are still a variety of vocations represented within the class (of 1964)," Hengeveld said. "They give a great perspective on what it means to truly be equipped to learn, serve and lead in the church and world because they've been doing that for 50 years."
Attendees included:
Ernest Baughman, Eunice (Fields) Beier, Donald Berg, Helen (Jensen) Bergt, Jerry Bisping, Julia (Barth) Bohl, Gordon Bredow, Ruth (Petersen) Bremer, David Bueltmann, Robert Burger, Karen (vonFange) Clausen, Judith (Guenther) Clay, Wayne Clements, Ina (Kaul) Diepenbrock, Ray Diepenbrock, Wilma (Baden) Droegemueller, Alfred Ebel, Allen Grohn, Richard Gudgel, Marilyn (Altevogt) Helmer, Ben Herbrich, Kathleen (Schroeder) Holmes, Helen (Prange) Huedepohl, Jacqueline (Blobaum) Jensen, Ralph Johnson, Sharon (Gellerman) Johnson, C. Frederick Kroger, Cheryl (Leuthauser) Kroger, Mary Ann (Deichmann) Kruse, Stephen McClintic, Susan (Jones) McGlaughlin, Ruth (Berroth) Messer, Paula (Juergensen) Moege, Robert Oetting, Janice (Mitchell) Pena, John Rasmussen, Louise (Baack) Ringler, Larry Rinker, Katherine (Bergt) Sandor, Mary (Kutches) Schirm, Joan (Doescher) Schram, Janice Schulz, Robert Schulze, Karen (Hadden) Soeken, Jim Stevenson, Juliet (Giebelman) Thompson, Marie (Goughnour) Wachlin, Norman Wachlin, Joy (Hawkins) Wagner, Stanley Wehling, Albert Wingfield