A Christian response to the stigma of quarantine for COVID-19
Published by Concordia University, Nebraska 3 years ago on Mon, Mar 16, 2020 3:44 PM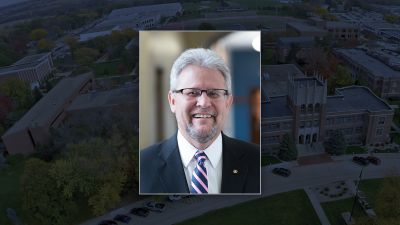 As COVID-19, also called the coronavirus, continues to spread, Concordia University, Nebraska is prayerfully and proactively responding. Concordia wants its students, staff, faculty and our entire community to keep themselves as safe as possible by following the most recent guidance from our local health authorities.
The Concordia community has local members who are participating in self-monitoring for symptoms and practicing specific health protection prescribed by local health authorities. Others are participating in self-quarantine because they have either been out of the United States or traveled in a COVID-19 heavily-impacted area of the country in the past 14 days. They have received guidance from the local Four Corners Public Health Department to do so. Currently identified areas include Washington State, California, New York City and most recently Colorado. Since I recently traveled to California, I am included in this group and will be in self-quarantine for 14 days that began on March 14. I have not experienced any symptoms of the virus; this is a recommended self-quarantine conducted out of an abundance of caution.
Mikayla Johnson, the disaster behavioral health coordinator and administrator for the Division of Behavioral Health at the Nebraska Department of Health and Human Services (DHHS), has responded to the outbreak with these thoughtful words:
"A global outbreak like this affects everyone, and an emotional response to its impact is normal. But if people avoid or blame others, this can also affect those who are virus-free. Stigma hurts everyone by creating more fear or anger towards ordinary people instead of the disease that is causing the problem. We can fight stigma and help, not hurt, others by providing social support."
As Christians who know the compassion of Christ, please consider how to treat those who are affected by this rapidly-changing, unprecedented situation with grace and understanding. We should use our Christian care to help and support each other through this challenging time. With an unparalleled situation like this and our society's reliance on social media, there may be instances where misinformation about this virus may be circulated. I ask that you do your part to reduce any stigmas that could develop as part of these conversations.
Viruses cannot target people from specific populations, ethnicities or racial backgrounds. People from affected countries who live in the U.S. may be worried or anxious about friends and relatives who are living in or who have recently traveled to a region identified as having a high incidence of spread. Facing stigma can make fear and anxiety worsen. Social support during this outbreak can help them cope. As Christians, we best demonstrate God's love for us by showing our love for our neighbors, particularly in times like these. Please be empathetic towards those who have been impacted by COVID-19. Pray that those affected by the virus may experience His healing love, and that those who feel fearful or concerned for themselves, their families and loved ones find comfort and solace.
The Centers for Disease Control and Prevention has accurate and helpful information for you on its website if you have specific questions about the virus.
Peace to you in Christ who will carry us through this time.

Rev. Russell L. Sommerfeld
Interim President
Concordia University, Nebraska