Children experience chemistry firsthand at special event hosted by Concordia, Seward Memorial Library
Published by Concordia University, Nebraska 7 years ago on Fri, Jul 24, 2015 10:42 AM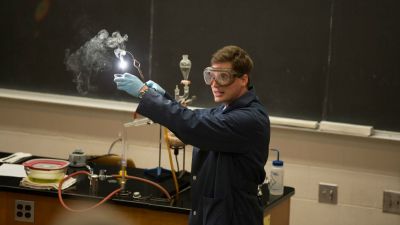 Concordia Professor John Jurchen burns magnesium to demonstrate the law of the conservation of matter discovered by hero chemists Monsieur and Madame Lavoisier.
John Jurchen, associate professor of chemistry at Concordia University, Nebraska, led "Hero Chemists, Heroic Chemicals" as part of the Seward Memorial Library summer children's program, which had the overall theme, "Heroes." The event was held on campus on July 9, 2015, for nearly 95 attendees ranging in age from toddlers to the elderly, with most being kindergarten and early primary to middle school students.
"This was my second opportunity to participate in a Seward Memorial Library summer reading program, and I hope to do so again in the future," said Jurchen. "Young children, naturally inclined towards science, were introduced to a real professor in a real lecture hall with dramatic demonstrations. You can't effectively simulate that experience with YouTube. Plus, I get to share God's world with God's people every day! It doesn't get better than that!"
Jurchen's presentation highlighted a number of important chemists, the work they did and some significant chemicals in today's society, with which he completed demonstrations throughout the program.
For safety reasons, student participation with some of the chemical reactions was limited. Jurchen completed a steam distillation of eugenol (clove oil) from whole cloves and distributed small amounts of the fragrant, non-toxic water afterwards for the students to smell and enjoy. The children also participated in identifying characteristic colors emitted by spectral tubes, and Jurchen answered students' questions at the end of the program.
"Even though the children were young, I think they will remember what they saw," said Charlotte Baldinger, librarian at Seward Memorial Library. "I hope we continue this partnership and create positive attitudes toward the science field as well as the literary realm."