Center for Liturgical Arts Creates Garden Sculptures
Published by Concordia University, Nebraska 10 years ago on Mon, Oct 17, 2011 8:15 PM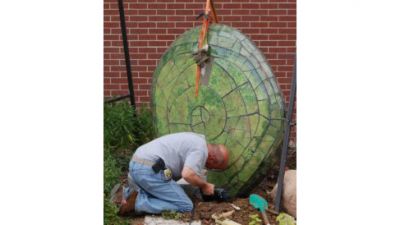 John Conklin of Shorey Metal Works in Topeka, Kan., secures a sculpture created by the CLA to its base in St. Robert Bellarmine Catholic Church's prayer garden.
Concordia's Center for Liturgical Art created three large mosaic sculptures to add an artistic touch to the prayer garden of St. Robert Bellarmine Catholic Church in Omaha, Neb. The sculptures were fabricated this summer by Mark Anschutz, CLA managing artist, Concordia alumnus Justin Groth and junior Evan Balleweg.
According to Anschutz, prayer gardens are becoming increasingly popular as additions to church grounds. Members of St. Robert Bellarmine spent the past few years cultivating their prayer garden, now full of flowering plants, gentle waterfalls and benches on which to enjoy the surroundings. The CLA worked with Teri Quinn, the driving force behind the garden, to determine what sort of sculptures would best complement the space.
The ideas of creation, life and redemption are depicted through the sculptures, reflecting God's world. "Time began in a garden, so it seemed like a logical choice to have the sculptures designed in a way that chronicled the beginning of the universe," Quinn explained.
Each sculpture was molded out of concrete and covered with handmade clay tiles glazed in bright colors. Some tiles were imprinted with leaves and branches to relate to the various plants and flowers that fill the garden. The sculpture representing creation is closest to the entry of the garden and has swirling blue glazes reminiscent of a spiraling universe. Life is represented through a bright green sculpture and, tucked in the back of the garden, is a rose-shaped sculpture glazed in shades of pink, symbolizing God's love and redemption for his people.
"The prayer garden has always been intended to be a place for quiet meditation, set among the beauty of nature. Adding sculptures made out of natural elements from the earth just seemed a natural fit. The sculptures are intended to coexist with the flowers without overpowering them," Quinn remarked.