Center for Liturgical Art mosaic installed at Connecticut church
Published by Concordia University, Nebraska 11 years ago on Wed, May 25, 2011 5:32 PM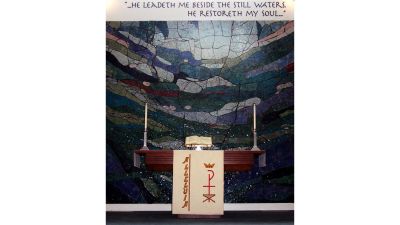 Water was the theme of a large ceramic mosaic created by the Center for Liturgical Art at Concordia University, Nebraska for the Lutheran Church of Madison in Madison, Conn.
The 12-foot-by-12-foot mosaic is made of clay tiles that create an abstract, flowing design. The mosaic was installed on the chancel wall behind the altar in the church's sanctuary. Metal lettering above the mosaic reads, "He leadeth me beside the still waters. He restoreth my soul."
Tiles colored with blue, green and turquoise glazes and small, raised circles add texture and dimensionality to the mosaic. The overall effect is one of a gently flowing wave of water. The Center hopes the mosaic will reflect and embody the corresponding Bible verse and act as an image of comfort and hope to those who worship at the Lutheran Church of Madison.
Months of fabrication went into the project, allowing several ecclesiastical art students at Concordia to gain experience with clay, glazes and later stages of tile assembly. Besides the hands on work, students gained the knowledge of how liturgical artists work with churches to commission and create ecclesiastical art.
The Center for Liturgical Art works with architects, liturgical consultants and master artisans in the design of worship space and the creation of ecclesiastical art.