Center for Liturgical Art installs colorful hanging sculpture in Lawrence, Kansas
Published by Concordia University, Nebraska 6 years ago on Fri, Jan 16, 2015 10:15 AM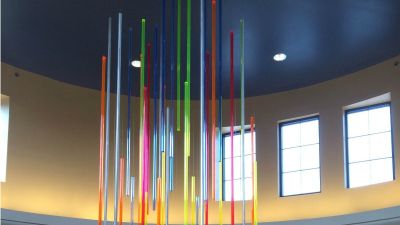 This 25-foot hanging sculpture created by the Center for Liturgical Art at Concordia was installed at Corpus Christi Catholic School in Lawrence, Kansas, on Dec. 1.
The Center for Liturgical Art at Concordia University, Nebraska created a colorful 25-foot hanging sculpture and installed it at Corpus Christi Catholic School in Lawrence, Kansas, on Dec. 1. The sculpture supports the school's motto, "Faith Seeking Understanding."
The piece is composed of many extruded acrylic rods in florescent colors that hang from a five-foot disk installed in the ceiling of the school. The CLA Operations Manager Evan Balleweg said the design's random appearance ties into the meaning of the piece.
"God plants us places, and while it may seem random at first, it all comes together to create a bigger picture," said Balleweg.
The sculpture was also inspired by Isaiah 55:10-11 in the Bible (NIV): "For as the rain and the snow come down from heaven, and do not return to it without watering the earth
and making it bud and flourish, so that it yields seed for the sower and bread for the eater, so is my word that goes out from my mouth: It will not return to me empty, but will accomplish what I desire and achieve the purpose for which I sent it."
The sculpture hangs in the high ceiling of the rotunda of the school so students see the colorful rods from the bottom up. Chase Becker, the director of liturgy and youth and young adult ministries at Corpus Christi Parish, said as students enter the school they seek and encounter God and his Word.
"It is this intense concentration of color, light and metal that illustrates the power of that Word which comes from the mouth of God," said Becker, a former CLA intern at Concordia. "Not only that God graciously showers the Word on all who seek God, but that this Word has a purpose that will be achieved in our lives. Like the sculpture, we may not perceive God's gifts all at once, but slowly, over time, and from many perspectives."
The Center for Liturgical Art collaborates with churches to create unique and inspiring spaces for worship. The Center works closely with Concordia University students and is actively seeking new commissions.
For more information, visit the CLA's website at www.liturgicalart.org or call 402-643-7431 to speak with an artist.