Bryan Moore receives national Intellectual Freedom Award
Published by Logan Tuttle 2 years ago on Wed, Aug 26, 2020 4:32 PM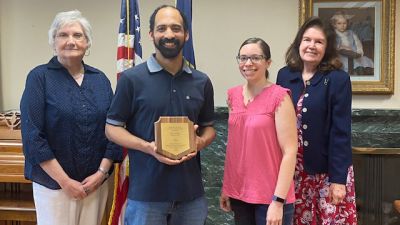 Professor Bryan Moore receives the 2020 Nebraska English Language Arts Council (NELAC)/National Council of Teachers of English (NCTE) Academic Freedom/Intellectual Freedom award Aug. 4 during the NELAC Luncheon in Seward. Pictured with Moore is, from left: Sharon Bishop, NELAC president, Stephanie Shearer '16, NELAC president-elect who nominated Moore and Ann Quinlan, NCTE representative. Additionally, Moore has received the NCTE Affiliate Intellectual Freedom Award.
Bryan Moore, professor of communication and theatre arts, and director of theatre, was recently named one of two 2020 National Council of Teachers of English (NCTE) Affiliate Intellectual Freedom Awards, after being nominated by the Nebraska English Language Arts Council (NELAC).
"I'm flattered that I was nominated for this award, because it is about promoting intellectual freedom," Moore said. "It's important to use our academic setting to engage with our students and with our peers about the topics of identity and social justice. I think it's key to acknowledge how literature and the arts can help us learn about ourselves and help us put a lens on the way we behave and engage with each other, so we can learn how to be better people."
Moore was nominated for the award by Stephanie Shearer, a 2016 Concordia graduate who teaches English, speech and drama at Central City High School and serves as NELAC's president-elect.
Moore's nomination application noted:
Bryan's commitment to serving every student in his classroom and theatre embodies the very ideals of intellectual freedom and cultural responsibility. He challenges all his students to engage in meaningful conversations about controversial material, encouraging them to ask questions, research representations, and challenge what they see. As a director, he does not shy away from controversial conversations or scripts; instead, he challenges students to explore the ideas presented and have open conversations about the subject matter. Bryan encourages students to find creative ways to spark conversations in their communities surrounding issues that matter to them. Because of this and much more, Bryan is very deserving of the Intellectual Freedom Award.
"It is humbling to know my students are seeing what I'm trying to do," Moore said. "It's important to me that they feel comfortable having those conversations, not just with me, but beyond. It's great to see how students, and now alumni, use some of our discussions and apply them to their own lives and careers."
In his classes, Intro to Literature to be exact, Moore organizes the class to discuss different forms of identity by asking students to be aware of their own identity as a way to better understand their qualities and how their identity influences the way they live.
"It could be race and ethnicity, gender, religion, age, all of those different factors and qualities, and I ask my students to look at the literature and see what it's saying about identity and then apply it to themselves," Moore said.
The NCTE Intellectual Freedom Award honors individuals, groups, or institutions that merit recognition for advancing the cause of intellectual freedom. These awards are given in two categories: (1) a national Intellectual Freedom Award and (2) an NCTE affiliate-based award. Each state, regional, and provincial affiliate is urged to establish and implement an Affiliate Intellectual Freedom Award.
At the 2020 NCTE Annual Convention, which will be going virtual this year, Moore will be announced as a recipient of an NCTE Affiliate Intellectual Freedom Award during the Affiliate Roundtable Breakfast on Sunday, Nov. 22. The other award winner is Tom Romano, Miami University, Youngstown, nominated by the Ohio Council of Teachers of English Language Arts.
For more information about the NCTE Affiliate Intellectual Freedom Award, visit https://ncte.org/awards/affilicate-ncte-intellectual-freedom-state-regional-provincial/.