Brandon Timoney '21 finds connections through sportscasting
Published by Logan Tuttle 1 year ago on Thu, Feb 3, 2022 8:39 AM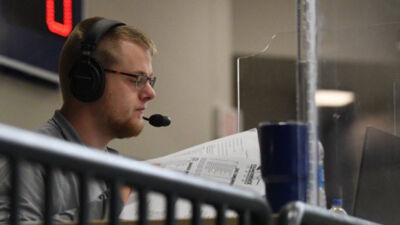 Brandon Timoney, a 2021 Concordia graduate, recently called his first Bulldog basketball game, an achievement four years in the making.
In his time at Concordia, Brandon Timoney and his voice were a staple at many Bulldog sporting events as he informed crowds in the bleachers as the public address announcer and at home during livestream broadcasts.
Then, on Jan. 8, shortly after becoming an alumnus, Timoney achieved his dream of calling a Bulldog basketball game on the radio.
It was a dream four years in the making.
_____________

Since graduating from Concordia in December 2021 with a degree in business administration and a communications concentration, Timoney has been working for the Rural Radio Network part-time, broadcasting games on both KOOL Radio 103.5 FM and 104.9 Max Country, which carry many local high school and college sporting events. During the day, he works for a farm accounting firm.
Timoney's passion for sportscasting began as a junior in high school. He played basketball his freshman year, but didn't find the success he was looking for. After taking sophomore year completely away from the sport – the basketball coach approached him during his junior year about being the team's public address announcer.
"I hadn't thought of it before then and figured I'd give it a shot," he says. "I really enjoyed it at the start and was getting a lot of positive feedback, and a lot of people encouraged me to look into radio."
Those first experiences, he says, lit a fire inside of him to keep going.
At Concordia, Timoney found plenty of opportunities to hone his craft and find his voice. He served as the public address announcer for men's and women's soccer for three years, and the baseball and softball teams for two years. He's called JV basketball games that were streamed on Facebook for two years, along with calling basketball games for the Concordia Sports Network during the Cattle Classic Tournaments, not to mention a handful of other games throughout his time on campus.
That's all in addition to serving as a manager for the men's basketball team.
"I think one of the biggest things that helped me hone my skills was just being in that environment," he says. "Being around the game, players, coaches and office personnel just familiarized me with everything about it and gave me the confidence that I could actually pursue something like that. It also got me accustomed to the faster pace of college games, which was just another comfort factor."
Through his experiences at Concordia, Timoney says he was strongly encouraged to continue pursuing his sportscasting passion. The first instance was at the end of his freshman year, where he was the public address announcer for baseball and softball. Frank Greene, who did play-by-play announcing, told him he should be on the radio.
"He told me he'd refer me, but I never heard anything back, but Frank was persistent, and kept saying I should be on the radio," Timoney says.
Devin Smith, Concordia director of athletics, and Angela Muller, associate director of athletics, were also instrumental in Timoney's pursuit, he says.
"Devin and I would always go back and forth during soccer games about one day getting me on the radio," he says, "and Angela always assured me that she would do anything she could to make that happen. All three of these people always had confidence in me, and they never gave up on me, and I'll never forget that."
By calling games on the radio, Timoney says he's able to remain connected with his late father and his late grandmother, by picturing the three of them together in the living room and telling them the story. Although they were called to their heavenly homes before his radio career began, he believes they're still listening.
"I know they would be listening intently to everything I said, and I know they are doing just that now," he says. "It makes me smile sometimes knowing that even though they aren't listening to me from their living rooms, I believe they can still hear me, and I hope they enjoy what they are hearing. My goal every time I put on a headset is to not have a perfect game, or to not miss a single second of action, but to make them proud. And I hope I have done that."