Bibelots go to the beach
Published by Concordia University, Nebraska 11 years ago on Sun, Jul 10, 2011 5:19 PM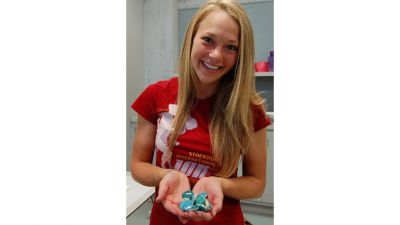 Anna Meyer holds bibelots created for her trip to San Diego.
Concordia art student Anna Meyer is taking part in a Campus Crusade for Christ San Diego Summer Project, and she is bringing a little bit of Concordia's Center for Liturgical Art with her.
During her summer experience in southern California, Meyer, a senior from Seward, Neb., will be part of a group of about 100 students from across the country. The students will learn how to evangelize in various settings, including on the beach.
Meyer has packed 300 bibelots to take with her. The bibelots are pocketable creations of the Center for Liturgical Art intended for evangelizing. The colorful objects are made of clay and glazed with different colors. Meyer's bibelots are blue, green and turquoise - the colors of the ocean. They have a cross and anchor imprinted on them, inspired by a Bible verse from Hebrews 6:19, "We have this hope as an anchor for the soul, firm and secure."
Meyer hopes this message will resonant with the recipients. "When people see it and hold it, they can be reminded of Jesus Christ and how He's the only thing they can be sure of in this life," she said.
Meyer will be blogging about her trip at www.mysummerinsandiego.blogspot.com.