Auditing students award grant to Lincoln Lutheran
Published by Logan Tuttle 11 months ago on Mon, Nov 23, 2020 10:42 AM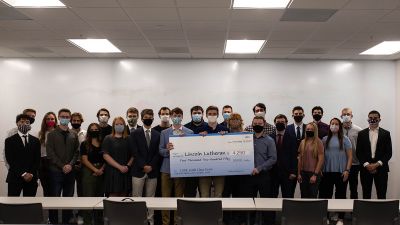 Professor Ryan Burger's auditing class presented grant funds to Lincoln Lutheran on Nov. 19. Logan Ryan, a 2019 Concordia graduate, who submitted the application on the school's behalf, represented Lincoln Lutheran and received the grant funds.
Professor Ryan Burger's auditing class is continuing its tradition of developing and providing a grant for Lutheran organizations.
This year, the class raised $4,250 that was awarded to Lincoln Lutheran on Nov. 19. Logan Ryan, a 2019 Concordia graduate who teaches business classes at Lincoln Lutheran, wrote the application.
The grant will be used to purchase new textbooks for Lincoln Lutheran's Introduction to Business and Personal Finance classes, Ryan said. Any additional funds will be used to purchase new accounting software for the school's business department and supplement fees for students enrolling in Future Business Leaders of America (FBLA).
"New textbooks in our business classes will be a breath of fresh air for our business students as our current ones are far outdated," Ryan said. "Without these funds that Concordia's auditing class is granting us, we would be unable to improve our curriculum, which begins with the resources that we have in the classroom."
In 2018, Burger's class, offered every two years, provided a $1,650 grant to St. Paul's Lutheran School in Ogallala, which helped provide new technology for elementary students. This year, Burger said, more students in the class allowed for more donor contacts to be made as the class continued to build on the foundation developed by the previous class. This year's class received 12 applications from organizations spanning from North Platte to Omaha and everywhere in-between.
Students had full control over the entire process, Burger said, from writing the grant, to contacting donors and also selecting the recipient. This year's class implemented a variety of improvements from the 2018 grant — the students set higher goals for applications and dollars raised, they streamlined the application process and also added an online donation component making it easier for donors to contribute. Two committees were formed to distribute the workload – one for fundraising and one for the application and selection process.
"Having that many applications was really exciting for the class," said Christian Van Cleave, a senior from Arvada, Colorado, who chaired the application selection committee. "The final decision was really tough because all applications had a clear vision for the funds and I believe the criteria and selection committee as a whole was moved by each application."
The selection committee group scored each application on five categories including Lutheran purpose, vision for funds, perceived impact of the funds, perceived financial need and the effectiveness of written communication. Then, the top four applications were presented to the entire class to be voted on.
"I believe this grant project was meaningful to everybody in the class," Van Cleave said. "We saw it as a way to invest in future generations to help them on their journey of education."
Van Cleave said nearly everyone in the class is an accounting major, and they identified with Lincoln Lutheran's vision and purpose for the funds.
Jacob Glines, a junior from Lincoln, who served as the marketing/fundraising chair, said he was impressed with the encouragement the class received from the entire community, allowing the class to provide $4,250 in grant funds.
"It's been awesome seeing the support that people give to us students," Glines said. "Many of our donors were professors, which is a testament to how supportive and involved our staff is."
Glines said the class enjoyed having the ability to raise funds for high school business students because they identified with their needs.
"Many of us vouched for the positive impact FBLA had on our lives and decisions going into college," Glines said. "I think being able to have a part in impacting high schoolers' lives is a pinnacle for the auditing class and it's something we won't forget anytime soon."
Ryan said he's grateful that Concordia continues to give back to schools as a way to promote education.
"Concordia has been such a blessing to me, as well as so many others throughout the local community," he said.
The Fall 2020 semester has been challenging for students, as safety protocols impacted classes and fall break was canceled, but the auditing class took it all in stride, Burger said.
"I continue to be inspired by the 2020 auditing class!" he said. "These individuals embraced the challenge, with no semester break, no reduction of classwork, during a pandemic, in and out of isolation, with many of them far from home. And they did it all with a smile (under their masks). We are blessed to have them at Concordia and I am so grateful to be a small part of their educational journey. Thank you, Lord, for giving me three hours a week with these great people!"
Members of the 2020 auditing class are: Brayden Adams, Jeremiah Berryman, Joseph Bindl, Jamey Broman, Gabrielle Diamond, Ethan Doyle, Wyatt Eriksen, Jacob Glines, Jayden Graham, Morgan James, Erich Kenow, Jack Kitson, Nicholas Little, Thomas Otte, Adam Pinn, Michaela Regier, Henry Reimer, Cally Rogers, Nicholas Sandoval, Carter Thorman, Zebadiah Uden, Amos Utecht and Christian Van Cleave.