Artwork by Perschbacher installed in Illinois and Iowa
Published by Concordia University, Nebraska 12 years ago on Tue, Jul 12, 2011 5:12 PM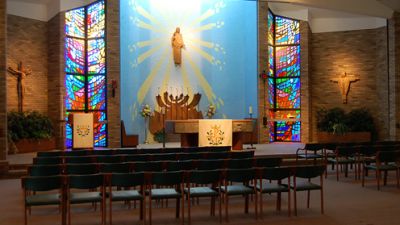 Assistant Professor of Art Philip Perschbacher led the design of two projects completed this spring by the Center for Liturgical Art on Concordia University, Nebraska's campus.
Perschbacher designed and created a 4 ft. by 4 ft. basswood carving of Jesus Christ to hang in the chapel of the Lutheran Home retirement center in Arlington Heights, Ill. He chose Christ the King as the subject of the carving to complement two other statues of Christ at the chapel, one portraying Christ on a crucifix and the other as risen Christ. Perschbacher's Christ has robes and crown representing the priestly and royal nature of Christ.
Perschbacher also designed an 8 ft. by 16ft. stained glass window for St. Paul's Lutheran Church in Ankeny, Iowa. The theme for the window was the resurrection, and he chose butterflies and Easter lilies as symbols of birth and rebirth.
"The numbers are important," explained Perschbacher. "There are eight butterflies. Eight is a number used to represent eternity or the eighth day of creation. There are twelve lilies. Twelve is a number that symbolizes heaven and earth. These symbols help strengthen the idea of resurrection and new life given to us through Christ."
Once the window was designed, Perschbacher created a full-scale drawing to be used for tracing and cutting the glass. Work was then turned over to Mark Anschutz, managing artist for the center, and students at Concordia. They traced, cut and assembled more than 1,500 pieces to complete the intricate window. A single butterfly, for example, is constructed from more than 30 pieces. Students working on the project included Evan Balleweg, Briar McCoy, Cenedra White, Tasha Burrill and Josh Duncan.
The window was installed in Ankeny in May.