Art students' work on display in Marxhausen
Published by Concordia University, Nebraska 12 years ago on Wed, Nov 17, 2010 6:25 PM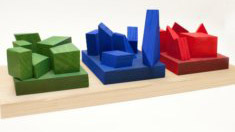 Heather Hiesterman will display her work as part of the senior thesis exhibition at Concordia.
The public was invited to view the original works of five Concordia art students at their senior thesis exhibition. The show was on display in the Marxhausen Gallery of Art from Nov. 29 – Dec. 14. An opening reception was held Dec. 5, from 1– 4 p.m., and the artists discussed their works at 2 p.m.
The exhibit included ceramics, prints, found objects pieces, anatomical collages and collaborative works done with other art students.
Chris Bowers, Omaha, Neb.; Kim Francis, Overland Park, Kan.; Justin Groth, Seward, Neb.; Heather Hiesterman, Linn, Kan.; and Lauren Onions, Overland Park, Kan., shared their pieces as part of a class required for all Concordia Bachelor of Fine Arts majors.
"The reason the senior show is required is that it provides seniors with an opportunity to present a thematic body of their work in a public forum," said Jim Bockelman, associate professor of art.
While the show is for class it is also something the students looked forward to. "This is required as part of my major, but I have been watching older students do their shows every year I have been at Concordia," said Onions. "My show has been in the back of my mind for the last four years, and I am excited that it is finally my time in the Marxhausen."
Another of the student artists, Kim Francis, added that the experience of exhibiting is important for art students. "While I was looking at colleges, I was very drawn to Concordia's program not only because it was so strong, but also because it provides its students with plenty of opportunities to show their work publically, which I believe is vital for artists," said Francis.
The Marxhausen Gallery is the on-campus exhibition space for Concordia and hosts a variety of exhibitions each year. It is located in Jesse Hall and is open Monday-Friday 11 a.m.-4 p.m. and Saturday and Sunday 1-4 p.m.