Art exhibit celebrates works of Reinhold Marxhausen
Published by Concordia University, Nebraska 11 years ago on Fri, Sep 2, 2011 4:19 PM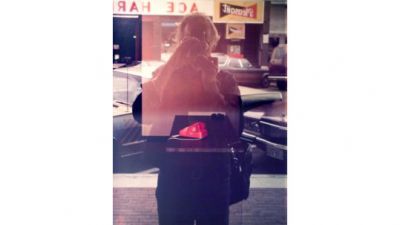 Marxhausen, who challenged people to discover the exceptional in the ordinary, shot this self-portrait photograph.
The works of Reinhold Marxhausen, Concordia art professor emeritus, who passed away in April, are the subject of the current exhibit at Concordia's Marxhausen Gallery of Art. "Do You See What I See? A Tribute to Reinhold Marxhausen" opened Sunday, Oct. 2.
According to James Bockelman, gallery directory and Concordia art professor, the exhibit celebrates the person, career and reputation of Reinhold Marxhausen.
"Marxhausen's creativity was centered in the Concordia classroom where he taught lessons learned from his studio experience," said Bockelman. "Much of the artwork he created was a result of his relationship between the classroom and studio."
Included in the exhibit are examples of Marxhausen's watercolors, photographs and oil paintings. A number of sound sculptures are on display and also pieces Marxhausen pointedly made to show the beauty of the most humble and overlooked items around us every day. The title for the exhibition is taken from one of his slide lectures often used in the classroom and for the public. His emphasis was to encourage people to discover the exceptional within the common ordinary events of the day.
An informal conversation about Marxhausen's role as an innovative and influential arts educator, contemporary faculty members and community members took the place of a traditional exhibit talk. Marxhausen colleagues Jack Duensing, William Wolfram, and Donald Dynneson, Steve Wake of Jones Bank and Norman Geske, the director emeritus of the Sheldon Memorial Museum in Lincoln, joined Marxhausen's former students Arlen Meyer and Edna Duensing to reflect on his contributions as a teacher, as a Nebraska artist and as a civic leader within the Seward community.
The exhibit is open to the public. The exhibit will run through Wednesday, Nov. 16. The Marxhausen Gallery is the on-campus exhibition space for Concordia and hosts a variety of exhibitions each year. It is located in Jesse Hall and is open Monday-Friday 11 a.m.-4 p.m. and Saturday and Sunday 1-4 p.m.