"Antigone" comes alive at Concordia
Published by Concordia University, Nebraska 9 years ago on Fri, Feb 3, 2012 12:54 PM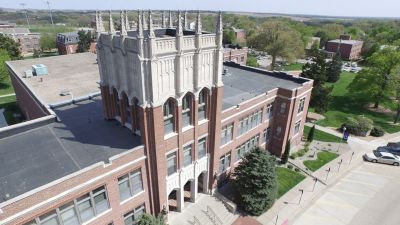 Greek tragedy took center stage at Concordia this spring as the theatre department presented Antigone March 2-4.
The adaptation by George Judy of Antigone, written by Sophocles in 442 B.C., portrays the story of a young girl, Antigone, who fights for the right to bury her dead brother against the orders of government officials. "You connect with the themes and conflicts that arise from this story, especially in this season of presidential campaigns and political conflict," said junior Austin Albers. Albers played Creon, the ruler of Thebes.
The selection is different from most productions the actors have previously staged. Senior Rory Wendelin, who played the title character, says she spent an exceptional amount of time in rehearsal trying to capture the drama and depth of the play. "Everything is so intense in this play that it is a hard crash coming down from the emotion that every character is experiencing. I tried to practice as much as I could to capture every feeling so that the audience could experience Antigone with me," she said.
Antigone cast:
Creon- Austin Albers, Junior, Sioux Falls, S.D.
Senator- Tyler Zander, Junior, Howard Lake, Minn.
Sentry- Steven Whitney, Senior, Kenyon, Minn.
Haimon- Daniel Miller, Junior, West Point, Neb.
Antigone- Rory Wendelin, Senior, Oberlin, Kan.
Ismene- Jenna Karlin, Freshman, Lincoln, Neb.
Eurydice- Brittany Pottschmidt, Senior, Brownstown, Ind.
Tiresius/Prolog- Heather Niedfeldt, Senior, Stella, Neb.
Child- Alaina Reinke, Seward, Neb.
Chorus:
Sarah Dinger, Senior, Pocatello, Idaho
Naomi Kuddes, Freshman, Austin, Minn.
Stephanie Schroeder, Freshman, Deshler, Neb.
Jordan Schultz, Junior, Beemer, Neb.
Heidi Niedfeldt, Senior, Stella, Neb.
Zachary Klatt, Freshman, Overland Park, Kan.
Martin Kois, Senior, Omaha, Neb.
Andrew Magnus, Freshman, Springfield, Mo.
Patrick Tyrance, Senior, Lincoln, Neb.
Crew:
Director- Bryan Moore, assistant professor of communication and theatre
Assistant director- Kelsey Livingston, Sophomore, Littleton, Colo.
Stage manager- Rachel Davis, Sophomore, Mount Dora, Fla.
Music assistant- Caitlynn Schwehn, Junior, Grand Island, Neb.
Set design- Robert Olson, adjunct professor of theatre
Costume design- Katrina Schulteis, Senior, Greenfield, Iowa
Lighting design- Mikaela Klein, Senior, Grand Island, Neb.
Backstage- Kirsten Awe, Sophomore, Tilden, Neb.