Andy Leach '00 takes love for cars and design in building hot rods
Published by Concordia University, Nebraska 3 years ago on Wed, Feb 27, 2019 12:09 PM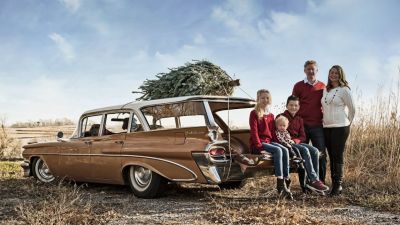 Andy Leach and his wife Annali, with three of their four children: Madysen (left), Carnegie and Skylar. Not pictured is the couple's four-month-old daughter Aspen.
Andy Leach's love for cars started at a young age by going to car shows with his father. At 14, he learned how to weld and couldn't be kept out of the garage. Before he was 16, he had restored a 1937 Ford back to new condition.
Leach, an Omaha native, graduated from Concordia University, Nebraska in 2000 with a bachelor's degree in commercial art. Throughout his time at Concordia, he always found a way to make cars the centerpieces of his assignments.
"I think I drove professor Lynn Soloway crazy," Leach said, "every project I did revolved around CAL Auto Creations."
As a teenager, Leach had a good handle on the mechanical side of restoring cars, but his design classes at Concordia helped him learn about aesthetics, which is equally, if not more important when restoring cars.
"What I do is art," Leach said. "It just happens to be in the automotive field. I was able to learn a bit of everything from my professors, Lynn Soloway, Jim Bockelman and William Wolfram, especially when it came to the design characteristics, the do's and don'ts in art and sculpture and different mediums."
In 2008, Leach left his full-time welding job to start CAL Auto Creations, in Bennington, near Omaha, with his partner Ron Cizek. Their relationship began when Cizek was looking for someone to work on his 1940 Ford Coupe he and his father started working on more than 50 years ago.
"It's amazing how this stuff happens," Leach said. "The man upstairs has a plan for how we meet people. I met Ron at probably the worst time in my life as I was a single father raising my daughter Madysen."
Leach brought Cizek's car into his garage and worked on it every night after putting his daughter Madysen to bed.
"All I did was work at my welding job, then go home and make us dinner, spend time with Madysen, then after she went to bed I'd work on the car until I couldn't work anymore," Leach said. "Then, I'd start the whole process over in the morning."
While working on the 1940 Ford Coupe, Leach had a desire to work on the car full-time and aspirations of running his own shop. Leach drafted an email to Cizek one night explaining his plan. That email was stashed in his drafts folder, because he wasn't sure how Cizek would take his request.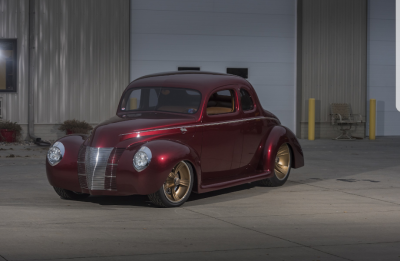 "But one night, I hit send and no joke my phone rang 10 seconds later and Ron said to meet me the next day at 9 a.m.," Leach said. "That morning I left my welding job and started working for Ron full-time."
Cizek quickly saw Leach's passion for working on cars and his strong work ethic that his parents instilled in him, and soon offered to help Leach start the business.
"I couldn't be where I'm at without Ron," Leach said. "He's a successful guy and he has a love for cars. He would show me the ropes of being in the car business and is a big influence in my life. He will probably never understand just how appreciative I am for all that he's done for me."
The 1940 Ford Coupe, named "Checkered Past," that Leach worked on for more than five years won the 50th Annual Ridler Award at the 2013 Detroit Autorama. Leach describes The Ridler Award as the Heisman Trophy of the custom classic car industry.
"I had worked on a previous Ridler winning car in 2006, so I kind of knew what it took to be a part of that," he said. "This was the first time that I was the guy calling the shots and running the business."
As Leach attended the awards ceremony, he had $6 in his bank account and didn't know how his bills would be paid when he got home. All of his eggs were in the 1940 Ford's basket
"When they announced we had won, this craziness began," Leach said. "From the time they announced it until the time I got home, everything was a blur. The phone started ringing immediately with media requests, I had no idea how they got my number."
Winning the Ridler Award put Leach and his team on the custom car industry's map, gaining coverage from just about every industry publication, including Motor Trend, Velocity and Hot Rod Network.
The business went from taking baby steps to being in a full sprint, he said, and it hasn't slowed down since. Leach and his 12-man team stay busy helping their customers, who come from all over the country, on their various car projects.
"Car guys have a passion for this, and I'm really blessed to do what we do," Leach said. "Nobody needs a car like this, it's not like we're building a house, but I'm very blessed to do what we do and get to meet the people that we do in this business, it's really cool."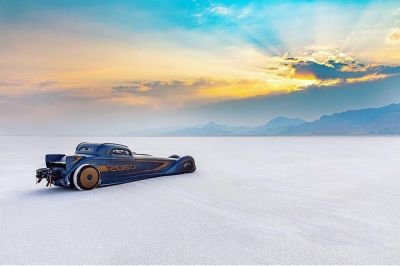 With the exponential growth taking place in short amount of time, Leach said he learned how to run his business on the fly.
"It was a struggle at first," he said. "I just wanted to work in the shop and build cars, running a business is a whole different side of things. But to do what I love and run the business as well, you get thrown into the fire and you have to learn real quick."
Leach said he still stays connected to his Concordia classmates, and many of the lessons he learned there helped him prepare for his career.
"I wouldn't be where I'm at now without the things I learned there," he said. "There is a larger influence at Concordia than I could ever put into words."
In 2015, Leach was married to Annali, and the couple have four children: Madysen, Skylar, Carnegie and Aspen. No matter how many new projects the team gets in the door, Leach makes it a point to get his team out of the garage at 5 p.m. to get home to their families.
"My wife keeps me in check," Leach said. "She has her own business as well and she does a great job. You can learn a lot by the people you surround yourself with. I'm the brawn and Annali is the brains behind the business."