Andrea von Kampen '16 releases debut album
Published by Concordia University, Nebraska 3 years ago on Sun, Jun 30, 2019 12:07 PM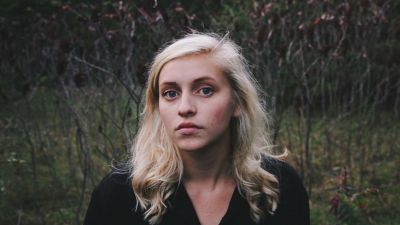 Andrea von Kampen '16 released her debut album, "Old Country," in February 2019.
Andrea von Kampen has always wanted to be a musician. From her days singing in her dad's choir, to listening her older brothers play music and connecting to songs from folk musicians like James Taylor, Bob Dylan and Paul Simon, she was lured to the idea of making her own music as a way of connecting with others.
"While I always liked choral music and those types of things, it was really the folk music that resonated with me," von Kampen, a 2016 Concordia Nebraska graduate, said. "It was something I could do. The naturalness of guitar and singing was alluring to me."
Von Kampen's musical influences were soon combined with Nebraska writers Willa Cather and Ted Kooser. She feels connected to Cather because she shares Cather's perspective about Nebraska.
"I think the Midwest continually gets a bad rap from people who don't live here as being not as important or not having as many valuable people," von Kampen sad. "I think that Willa Cather is a great example of a writer who understood the beauty and simplicity of this land. When you live here, that starts to get into your bones and you realize that yeah it's not flashy, but there's something so beautiful about it. I think I've always felt that way about Nebraska, then reading Cather explained and reaffirmed the thoughts I was already thinking."
Von Kampen will play in Cather's longtime home of Red Cloud, Nebraska next month at the Red Cloud Opera House to promote "Old Country," her debut full-length album that is based on Cather's "My Ántonia."
"I've never played there and I've never been to Red Cloud, but I've heard great things about the space so I'm looking forward to it," von Kampen said.
Von Kampen's "Old Country," released in February, was an opportunity for her to collaborate with her brother, David, who made the musical arrangements, as well as other Nebraska musicians.
"David is just so great with arranging music and taking my ideas and turning them into something that he can have the other instrumentalists do," she said. "He's sort of acting as the producer when I make these records. I write the songs and the lyrics and then tell him on certain songs I want the drums to feel like a traveling, continuous vibe and he gets in there and makes it happen."
Von Kampen worked on "Old Country" for about 18 months before it was released. She started with 50 to 100 songs for the album before the list was cut to eight, she said, because she only wanted to publish the best. Once the selections were made, von Kampen recorded the guitar and vocals, while David made arrangements with the musicians and recorded their parts. Then they started the editing process and when it was perfect, they sent the music to Doug van Sloun, of Focus Mastering in Omaha to put all of the pieces together.
"At the same time, we're doing artwork, doing some press, sending the music to people then release the singles," von Kampen said. "You have to wear a lot of different hats, there's creative, marketing, it's almost like you run a small business when you employ other artists. Then make a few music videos for the record to help promote it."
Through her time at Concordia, von Kampen was prepared for the challenges being a musician brings, because of physics. She credits lessons she learned as a senior in Dr. Robert Hermann's class that helped develop her strong work ethic. Without taking trigonometry in high school, she was challenged in his physics class. One day when she was sitting in his office, she came to the realization that she was going to have to work extra hard to get through it.
"That's kind of been my entire career so far also, I'm going to have to work so hard and I don't know if anyone's going to listen to my music," von Kampen said. "I don't know if anyone's going to care. I think what's weird is that class really made me work harder than anything else had and it was nice to have it my senior year and be reminded that it's going to be hard, but you're just going to have to put in the time."
People were listening indeed. Von Kampen made her presence felt in the industry in spring of 2016 when she was one of more than 6,000 entrants in NPR's Tiny Desk Contest, a nationwide contest where musicians are invited to submit a video of one of their songs. Her song "Let Me Down Easy," was met with high praise from the NPR staff, who said, "her guitar has an appealing, organic tone, but her voice is overpowering and dynamic."
Since then, she's been featured on curated playlists by online streaming services like Spotify and Amazon Music, amassing more than 507,000 monthly listeners on Spotify, and "Trainsong," from her EP "Another Day," has more than 3.1 million plays. As tempting as it may be to live in one of the country's musical hubs — Nashville, Los Angeles, New York, etc., von Kampen has stayed home in Nebraska because she's still able to share her music with others through streaming services and touring.
"Because of the way streaming is today, that's a huge benefit for people who don't want to be in the major hubs," she said. "You can totally do your thing from wherever and if the Spotify and the Amazon Music and the Apple Music people are digging it and picking it up, you can make your own opportunity that way."
In the time that von Kampen has been on the scene, she's realized she wants to be a musician for the rest of her life. With that goal in mind, each decision she makes is in that interest, instead of trying to capitalize on making a quick dollar. She isn't signed to a record label, she only plays venues where she knows she'll be heard and she strives to sell merchandise that people will like and treasure, not just the cheapest T-shirt she can find. All of von Kampen's artwork is produced by fellow alum Luke Wohlgemuth '15.
"I'll pay more money for locally made, cool merchandise that I hope in 20 years someone still loves that shirt," she said.
As an independent artist, von Kampen has the freedom to choose where she plays. Instead of choosing three-hour bar gigs, she'd rather play in venues known as listening rooms or other venues where she knows people will listen.
"We found that when people listen, they really invest in you and then they get excited about the new single you're releasing in six months," she said. "That's such a better way to build an audience, with people who actually care. I think it's just really satisfying to play for people who are willing to listen."
Find more about von Kampen's music and upcoming appearances on her website.