Abby Lyons '21 studies rare butterfly as part of master's research
Published by Logan Tuttle 5 months ago on Wed, May 12, 2021 11:24 AM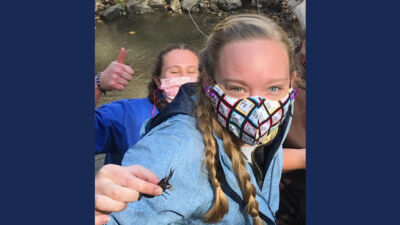 Abby Lyons '21 will pursue a master's degree in biology at the University of Central Missouri while studying the Harbison's dun skipper, a rare butterfly found in Southern California.
Abby Lyons will be spending her first six weeks after graduation in the field studying the Harbison's dun skipper, a rare butterfly found in San Diego County, California.
Lyons graduated on May 8 with a double major in chemistry and biology, and a minor in physics. As the Dwight, Nebraska native pursues her master's degree in biology at the University of Central Missouri, she will be conducting her own field research as part of a fully funded research assistantship.
Originally, Lyons wasn't planning on graduate school, but after taking a study tour of Costa Rica with Dr. Jennifer Fruend, she saw how conservation practices that were implemented in practical areas could preserve biodiversity and conserve land for future generations.
"I really fell in love with that during class," Lyons said. "So, I took ecology and started looking at grad school programs where I could get involved with conservation."
As someone who spent a lot of time in her childhood catching butterflies and having fun, finding the opportunity to study the Harbison's dun skipper seemed like a perfect fit.
"It's a childhood dream come true," Lyons said, "and I just happened upon it. I do like that this project is conservation based and will allow me to work with the ecosystem and focus on one species that's kind of unique. There are a lot of species that we just don't know about, and we need to help protect them because of their uniqueness."
During the first six weeks in San Diego, Lyons will examine the population of the butterflies in the area. Then, next summer, she'll spend another six weeks learning how the butterflies use the habitat and examine their interactions with other species. The goal of the research, Lyons said, is to help keep the conservation plan updated to ensure the species remains protected.
"The research project is laid out already and that's not always the case," Lyons said.
Lyon's process for finding her biology graduate program happened a bit different than other fields of study, she said, because the first step is to find an advisor first. She spent most of the Fall 2020 semester emailing professors who she believed would be a good fit to work with, asking if they had funding for research projects. When she found Dr. Daniel Marschalek at UCM, and told him she was interested in the project, they exchanged emails and Lyons went through interview rounds and then she was offered the position in January. After she accepted the position, she applied to the university.
While she prepares to start her own research project, Lyons reflected on some of her experiences at Concordia that have helped prepare her—including the Costa Rica trip, where she could connect what she learned in the classroom to a completely different ecosystem than what Nebraska offers. In her ecology class, they were tasked with studying mice in a local Seward prairie using the same technique she'll use in San Diego.
"That method of mark and recapture is written into this research," she said. "It's the same type of study from ecology class, but using a different organism in a different habitat, which is kind of cool."
Concordia is a unique place, Lyons said, because of the connections students make with professors.
"Those connections will open the door for opportunities," she said. "Without some of the connections I made at Concordia, this is not where my path would be. It's because of the classes and professors and the efforts they put in to help me succeed, that I am where I am today."
Soon, Lyons will be en route to San Diego, and then back to Warrensburg, Missouri. As she's working on her master's degree, she said she has an open mind for her future.
"I'm not 100% sure of what I want to long term," she said. "I know I want to work in ecology or conservation and looking to help ecosystems, but I'm not sure what that looks like yet. I'm hoping with more field experience and classes, I can narrow it down more, but I do know this is the area I want to be in."