24-hour IMPROVathon brings laughs all night at Concordia
Published by Concordia University, Nebraska 6 years ago on Fri, Mar 13, 2015 10:33 AM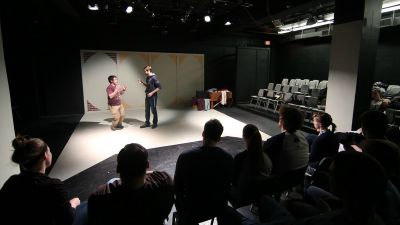 Ben Leeper (left) and Andrew Magnus rehearse for the upcoming IMPROVathon for fellow Concordia IMPROVables team members.
The Concordia IMPROVables, an improvisational theatre group, will bring 24 hours of laughs to campus from March 20 at 7 p.m. to March 21 at 7 p.m. in the Janzow Campus Center.
During the first two hours of the event, Concordia Professors Bruce Creed and Beth Pester will judge the performers in a friendly competition. After that, the laughs are just for fun.
"Improv for 24 hours straight? How will we pull this off? Every new improver asks these questions," said Concordia senior improver Kirsten Awe. "Well, we pull it off the same way we do in practice—as a team. I have always seen improv as a family."
Free-will donations collected at the event will be donated to IMPROVables member Marol Feickert's family. Feickert's mother has been in the hospital for more than four months, and the funds will go toward helping her family pay hospital bills.
The event also includes an opportunity to participate in Tab for a Cause throughout the night of comedy. Tab for a Cause is an app that raises money for charity with each tab a person opens on their Internet browser.
Students participating in IMPROVables include those listed below (alphabetical by state, city, last name); students in bold will be participating in the competitive part of the event:
Cameron Christiansen, sophomore, Palmer, Alaska
Christopher Wilson, senior, Fremont, Calif.
Zane Francescato, freshman, Alamosa, Colo.
Ben Leeper, junior, Falcon, Colo.
Allison Caudle, sophomore, Greeley, Colo.
Conner Lloyd, senior, Parker, Colo.
Sydney Heimann, junior, Galesburg, Ill.
Toria Turner, freshman, New Palestine, Ind.
Micah Holten, freshman, Nicollet, Minn.
Mason Koeritz, junior, Northrop, Minn.
Cadence Klemp, freshman, Winona, Minn.
Izaak Wendorff, sophomore, Winthrop, Minn.
Emma Wendorff, freshman, Winthrop, Minn.
Emily Kollbaum, sophomore, Concordia, Mo.
Andrew Crist, junior, Springfield, Mo.
Andrew Magnus, senior, Springfield, Mo.
Chris Genszler, freshman, St. Louis, Mo.
Marol Feickert, sophomore, Lawrenceville, N.J.
Amber Hopp, sophomore, Elkhorn, Neb.
Michael Duffy, freshman, Kenesaw, Neb.
Brandon Luetchens, sophomore, Murdock, Neb.
Paul Nelson, sophomore, Norfolk, Neb.
Elyssia Finch, junior, Omaha, Neb.
Caleb Haack, junior, Omaha, Neb.
Ethan Kesar, senior, Omaha, Neb.
Hannah Portrey, freshman, Omaha, Neb.
Clyde Ericson, sophomore, Osceola, Neb.
Jordan Schut, junior, Scribner, Neb.
Melonie Kotschwar, junior, Seward, Neb.
Kirsten Awe, senior, Tilden, Neb.
Taylor Rankel, freshman, Spring, Texas