Concordia Day of Giving
When you give to Concordia, you're not just making a one-time contribution; you become a spark that ignites a radiant light, stretching its glow far and wide to touch lives and transform entire communities.
Your gift, regardless of size, has the power to be the spark that lights the darkness for Christ.
Join us for Day of Giving, a 24-hour fundraising event that celebrates and supports Christ-centered education where students are not only transformed but also equipped to serve and lead in our communities, churches and the world.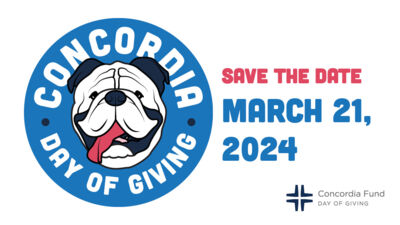 Day of Giving Match Opportunities
Make your gift go even further with these Day of Giving match opportunities!
Total Gifts
Each 100 donors unlocks an additional $10,000 matching gift, up to $30,000!
Concordia Faithful
Each of the first 20 new Concordia Faithful members to sign up for monthly recurring gifts unlocks a one-time $500 bonus on their first gift!
First-Time Gifts
First-time donors' gifts will be matched dollar for dollar up to $10,000!
Spark the Light!
Make a gift
Make your gift today to support student scholarships and the general operations of Concordia.
Share Your Concordia story.
Post a story, video or message on social media about how Concordia or Christian education has impacted you.
Follow Concordia:
Follow on Facebook Follow on Instagram Follow on LinkedIn Follow on TikTok
Join us in prayer.
Share your prayers for Concordia, our staff, faculty, students and Christian education. We'd love to pray with you!
What is Concordia Day of Giving?

A giving day is typically a 24-hour fundraising event that brings donors, volunteers and communities together around a common cause. At Concordia, we are always looking for new ways to encourage our friends and alumni. It is our hope that through this Day of Giving, we will be able to reach and engage more constituents across the country with opportunities to engage with Concordia.
How do I make a gift?

You can give a gift online all-day through our Day of Giving giving page.
Will my Day of Giving contribution be tax-deductible?

Yes, all gifts to Concordia are tax-deductible. You will receive an email confirmation after submitting your online gift, and a mailed receipt in the coming days.
What is the Concordia Fund?

The Concordia Fund is the lifeblood of the institution serving as the operating budget year over year. As the annual fund for the university, the Concordia Fund primarily supports student scholarships. With 100% of students receiving some type of scholarship support, the Concordia Fund is crucial to Concordia students.