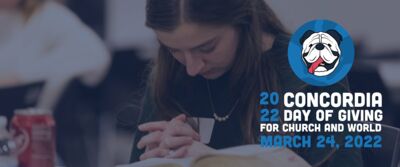 One week. One community. For Church & World.
Concordia Gives Week is a week-long fundraising event that brings friends, alumni and students together to support the mission of Concordia University, Nebraska: equipping men and women for lives of learning, service and leadership in the church and world.
Concordia Gives Week
March 20-24, 2023
Mon., March 20, all day - Dine out for Concordia at Jimmy John's: 10% of proceeds go directly to Concordia!
Tues., March 21, all day – Students Give Back to the community
Wed., March 22, noon – Concordia Day of Giving begins
Thurs., March 23, noon – Concordia Day of Giving ends
Fri., March 24, 2-4 p.m. – Celebrate with Concordia! Join us in Janzow Campus Center for a community celebration!
Will You Partner With Us for Church and World?
Join us in message.
Post a story, video, message or tweet about how Concordia has impacted you and tag #CUNEGives.
Follow, like and share our posts too!
Join us in prayer.
Today we come together as one family. Share your prayers for Concordia, our staff, faculty and students so we can pray with you.
Join us in giving.
Make your gift today for academic scholarships, church works scholarships or general mission.
What is Concordia Day of Giving?

A giving day is typically a 24-hour fundraising event that brings donors, volunteers and communities together around a common cause. At Concordia, we are always looking for new ways to encourage our friends and alumni. It is our hope that through this Day of Giving, we will be able to reach and engage more constituents across the country with opportunities to engage with Concordia.
How do I make a gift?

You can give a gift online all-day through our Day of Giving 2022 giving page.
Will my Day of Giving contribution be tax-deductible?

Yes, all gifts to Concordia are tax-deductible. You will receive an email confirmation after submitting your online gift, and a mailed receipt in the coming days.
What is the Concordia Fund?

The Concordia Fund is the lifeblood of the institution serving as the operating budget year over year. As the annual fund for the university, the Concordia Fund primarily supports student scholarships. With 100% of students receiving some type of scholarship support, the Concordia Fund is crucial to Concordia students.