Concordia Promise Panels
A collection of artwork developed by four Concordia students which embody each of the university's Promises of a Lutheran Education. Students were commissioned to develop the pieces as part of President Dr. Bernard Bull's inauguration week celebration.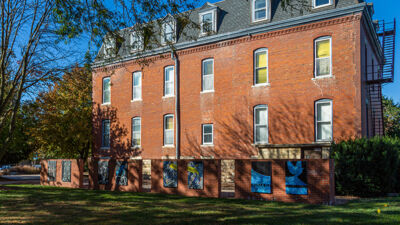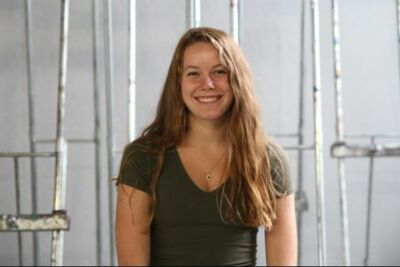 Community
Celia Askelsen, Senior
B.A. Art Therapy, B.F.A. Studio Art
For my two panels, I chose community because the relationships between people are very important in my own work as well. Community is a necessity for us all. We were made to want community. Too often, though, we expect being in community with others to be easy. But it isn't. Being in community is difficult. You have to be willing to not just stand next to someone and support them, but to walk alongside them on their journey. Even through the hard things you maybe don't feel like dealing with. Community is not a stagnant thing. It takes effort to find it and keep it. This idea is what I wanted to focus on in my two panels. I chose to paint two pairs of legs standing together as well as footprints walking alongside each other as a representation of the journey that is involved in being in community.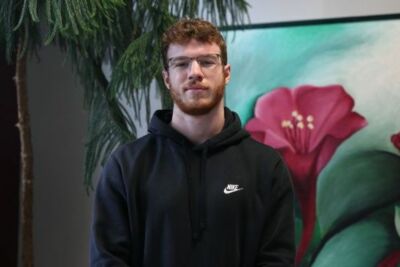 Inquiry
Matt Hawes, Sophomore
B.A. Studio Art
Inquiry is the search for knowledge. I chose "inquiry" because it's something that I think relates to my personality. The older I get, the more I look for ways to better myself. I try to build on myself and my skills with every project. Concordia has helped me with my art by giving me the best resources and a community that allows me to become the best person I can be.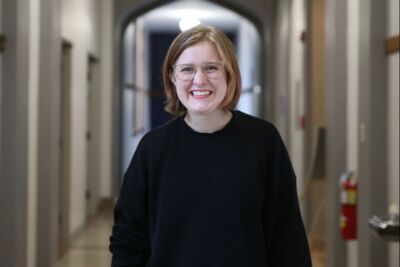 Purpose
Emily Niemeier, Senior
B.F.A. Studio Art
For students, this period of our lives is filled with self-discovery. As we are pursuing an education and preparing ourselves for work in our desired field, it is not uncommon for questions and doubts to creep up. Why am I doing this? What is in store for my future? What is my purpose in life? In this piece, I want to celebrate the exploration that comes along with finding your purpose. The goal of these paintings, based on elements taken from old nautical maps, is to capture the excitement and wonder we find when exploring our talents. The unexpected shapes and winding lines point to the variety of paths our lives may take us on. Knowing that God has a plan for us frees us to enjoy the journey.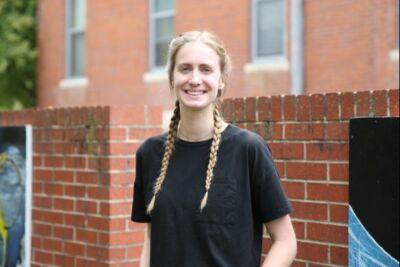 Wisdom
Sarah Armbrust, Senior
B.F.A. Studio Art
The Bible describes wisdom as a fountain and a bubbling brook, something the Lord gives to us through the Spirit that is more precious than jewels, always guiding us to Christ. I have chosen to depict wisdom as a dove springing from swirling blue waters. Wisdom is not stagnant, but something that is constantly flowing and developing. Concordia has given me opportunities to grow in wisdom through my classes, community, and encouragement to live in faith. I am very grateful for the opportunities I have been given to experience and witness this Concordia promise.