History of Concordia
Concordia University, Nebraska has been equipping students for service in God's church and world since the doors opened on Nov. 18, 1894 with one professor, 13 male students and a three-year high school curriculum. More than 125 years later, Concordia has grown into a fully accredited, coeducational university offering more than 100 programs and has granted degrees to tens of thousands of students.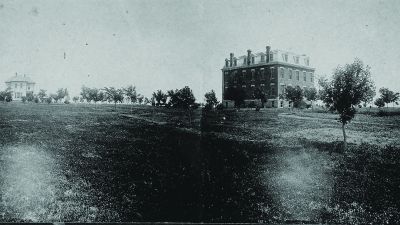 Concordia University's Name History
We officially became Concordia University, Nebraska in 1998. In the 104 years prior, we were known by a multitude of different official and non-official names.
From 1924-1974, we were Concordia Teachers College, initials that can still be found around campus, and the Concordia Teachers College name is inscribed in the front of Weller Hall.

From 1975-1998, we were commonly known as Concordia College, to reflect added degree options (in addition to our education degrees) though that was never the official, legal name of the school.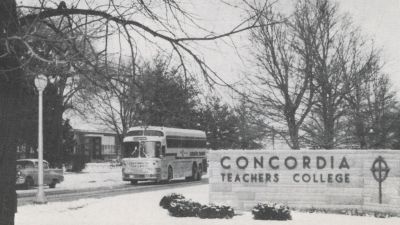 Also Known As... (Official and non-official name history)
The cornerstone on Founders Hall bears the initials E.L.S.L.S., short for Evangelische Lutherische Schullehrer Seminar, apparently the first name given to Concordia in 1894 by our German-speaking founders. Translated into English, the name was Evangelical Lutheran School Teachers Seminary. However, the school's early leaders didn't worry much about settling on a consistent name.
Dr. Jerry Pfabe, emeritus history professor and the university's archivist, has found references to a dozen official and unofficial names. Several of those names cropped up in the first few decades: Zweites Schullehrer Seminar zu Seward, Nebraska (The second school teachers' seminary): The school's only purpose in the early years was to train teachers for Lutheran Church–Missouri Synod (LCMS) parochial schools. The LCMS started its first teachers' seminary in Indiana and later moved it to Illinois.
Seward College: This was an unofficial name that appeared on baseball uniforms. No one knows for sure when Concordians first started playing organized sports, but they were believed to have adopted the Bulldog mascot in honor of Coach Walter Hellwege's pet bulldog, who accompanied him to games in the 1920s.
German College: This was an unofficial—sometimes derogatory—name used by Seward County residents to describe the college.
Lutheran Normal School: "Normal school" training was the term for teacher education programs in the early part of the century. Concordia began offering bachelor's degrees in 1939, but in many states teachers were not required to have bachelor's degrees for several more years.
Look long enough and you may still find the initials CTC stamped on objects around campus. Concordia Teachers College was the school's official name for more than 50 years. The "Teachers" was gradually dropped from recruitment materials as the curriculum expanded to include DCE and pre-seminary programs, followed by a host of liberal arts majors in the 1970s and 1980s. We were unofficially known as Concordia College from 1974-1998.
Although Concordia still operates as part of the LCMS, we recruit students from many Christian denominations.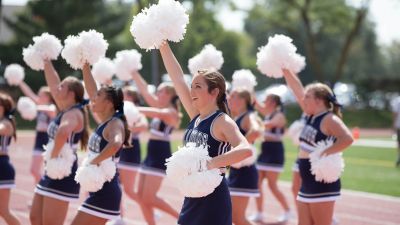 School Songs
The Tower Song
Dear old tow'r that shines above us, dear hearts that catch the gleam; tho' miles and years remove us, of you we'll always dream.
From Plum to Blue and yonder we rise Concordia's own, to praise as far we wander the good that on us shone.
On, Concordia
On, Concordia, On, Concordia, Pep that team of yours. Fight, Concordia, Fight, Concordia,
'Til we win this game. Rah! Rah! Rah!
On, Concordia, On Concordia, Pep that team of yours. Fight, fellows, fight
And we will win this game.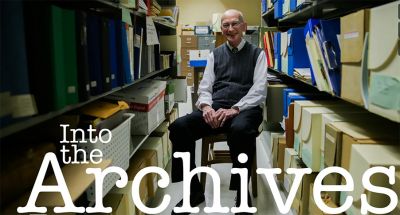 Into Concordia's Archives
Take a trip into Concordia's archives with Dr. Jerry Pfabe, emeritus history professor and the university's archivist, to see how Concordia has flourished since opening in 1894. All while staying true to the original mission of equipping men and women to serve and lead in God's church and world.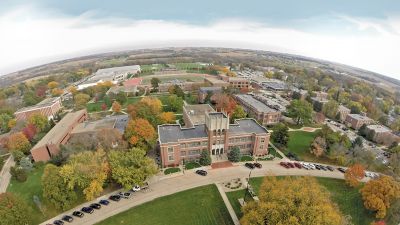 Campus Virtual Tour
Before you visit our campus in person, we invite you to take a virtual tour and get to know some of the buildings you'll be frequenting.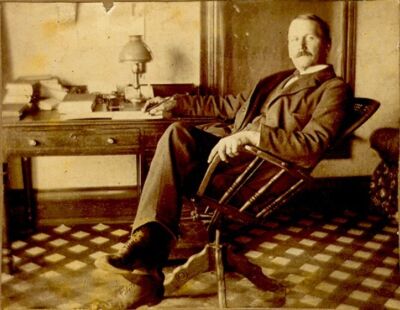 Rev. George Weller's Address at the Dedication of Becker Hall
Rev. George Weller, first president of Concordia University, Nebraska, delivered an address at the dedication of Becker Hall.