A New Space for Music Coming Fall 2022
We are excited to announce that Concordia is undertaking a $17.5 million project to construct and endow a 46,544 square foot music facility to provide a state-of-the-art collaboration and study center for our music students and faculty.
This innovative space will bless our community of performers on campus and throughout the region, equipping you to create excellent music and theatre for the church and world. By also providing an enhanced performance space for theatre productions, this facility will greatly advance the performing arts at Concordia.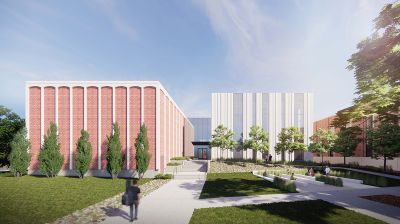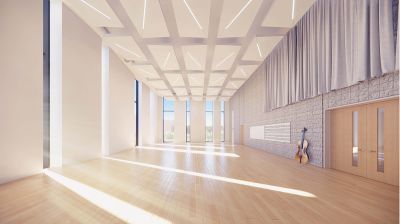 A Space for Inspiring Creativity
The new Music Center will include 22 practice rooms and 13 teaching studios with improved sound-proofing, where you can hone your skills while focusing on each individual note. A multitude of floor-to-ceiling windows will provide natural light throughout the building, bringing energy and inspiring creativity in each space.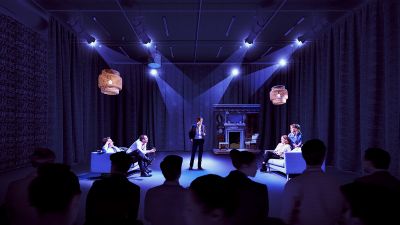 A Crescendo of Talents
Concordia's nationally accredited department of music provides students tools you'll need to be successful professionals, whether your vocation is focused on secular or church music. The Music Center will provide new resources, including a recording studio and designed spaces for music therapy. Meanwhile, a new 100-seat theater will provide drama students and patrons a first-class experience.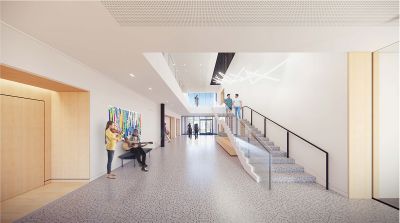 Sharing Sounds of Good News
Through Concordia's long-standing tradition of musical excellence, we honor God by helping you refine your musical talents so they can be shared with the world. This new building provides updated technology and tools and also promotes community collaborations in your musical celebrations that Christ has risen.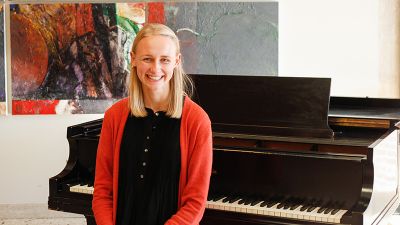 "We can soon have even more students participating in music at Concordia in a beautiful facility solely designed for making excellent music. This gives us an incredible opportunity to truly reflect Concordia's Christ-centered mission and share the Word through exceptional artistry."
Charlotte Lines '21
B.Mus. in Vocal and Instrumental Music Education
B.A. in Music with a performance emphasis
A Cappella Choir, Concordia Handbell Choir and Chamber Orchestra
Music Academic Programs
Hone your talents in our brand new building!
Fill out this quick form and one of our admissions counselors will connect with you soon.