Creating Your Concordia Account
If you are an undergraduate student for our Seward, Neb. Location that needs to pay the enrollment fee, please pay that first. Please allow 24 hours (or the next business day if on a weekend) for your enrollment fee to be processed before creating your Concordia account.
If you are a graduate student, log in to your application using the link below. Then follow the steps from there.
For best results:
Use a computer (not a phone) with Google Chrome, Microsoft Edge or Firefox. If you use Internet Explorer, you will receive an unexpected error.
Do not use a work or school computer.
Make sure pop-ups are turned on.
This is the same username (email address) and password from when you applied.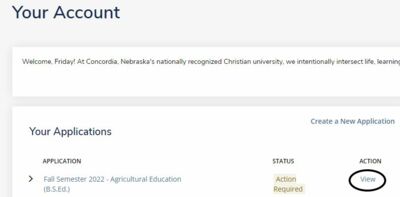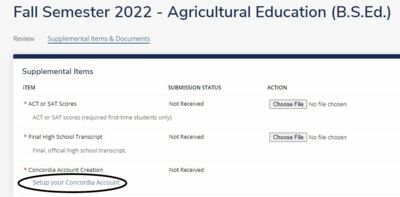 Click Submit Supplemental Items and Documents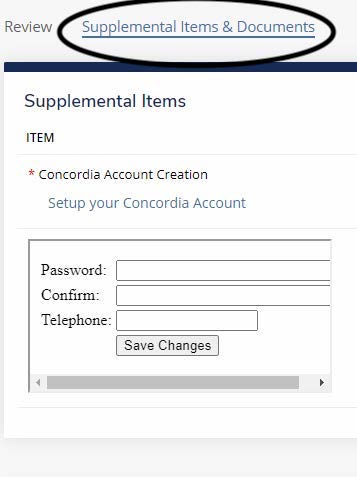 Click Setup your Concordia Account

Create your password and add your phone number and click Save Changes
Your password must
Be at least 8 characters long
Contain a lower case letter (a-z)
Contain an UPPER case letter (A-Z)
Contain a number (0-9) or symbol (~!@#$ etc.)
Not contain your first name, last name or username

Wait for an email
Once you see the image above, you're not done yet. After you have set your password, you are not done. You will be sent an email from support@cune.edu within 24-48 hours. It might go to your junk folder. This email will contain your username and instructions for logging in to the portal and your cune.org email.
Logging in to the Portal
Visit portal.cune.edu
Use your Concordia Account to log in. You should have received this information in your email after following the steps above to create your account. Your username is typically in the Firstname.Lastname format.
Forgot Your Password?
Visit cuneaccounts.cune.edu and click on I don't have a password. What's next?
Click I don't have a secure access code, either.
Complete the form on the Identify Account page and click Lookup
Here you will have the option to either receive a text or a phone call to have a verification code sent to you.
If after completing the steps above you continue to have difficulty setting up your Concordia account, please contact the Admissions Office at admiss@cune.edu or 402-643-7233.