No breakpoint
Breakpoint
sm
Breakpoint
md
Breakpoint
mlg
Breakpoint
lg
Breakpoint
xl
Breakpoint
2xl
Middle Level Education Courses
The following sample course of study is an example of the sequence of courses you might take in order to receive your degree. Please plan to discuss your actual course of study with your advisor, who can help you stay on track to meet your academic and professional goals.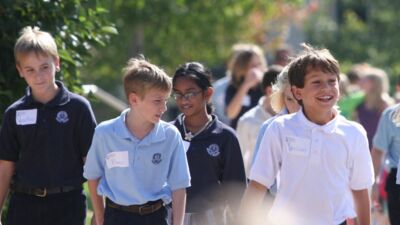 Semester 1
First-Year Experience
A unique course designed to provide first-year college students with knowledge, tips and tricks to support their collegiate career.
1


credits
General Education
General education from across the university
9


credits
Semester 2
Introduction to Education
Foundational concepts of the modern educational system. Emphasis on sociological, historical, and philosophical concepts of American education with time to explore curriculum, pedagogy, technology skills, professional learning, and ethical practice within the field of education. Field experience required.
3


credits
Educational Psychology and Child Development
A study of the psychological foundations of education with child development. Emphasis on developmental psychology and psychological foundations of relevant topics including, but not limited to, learning theories, individual variation and student diversity, planning, motivation, class management and assessment. Teaching as a form of ministry, psychology as a science, the use of research in education and the development of skills required to become a reflective practitioner. Field experience required.
3


credits
General Education
General education from across the university
7


credits
Semester 3
Middle Level Philosophy, Theory and Practice
Middle Level philosophy, theory and practice, including: history of the middle school; organizational patterns in middle schools; advisory programs; vision and mission in middle schools; effective middle school environments; building effective relationships among parents, schools and communities; and appropriate curriculum, instructional strategies, and assessment in middle grades.
2


credits
Psychology of Exceptionality
This is a survey course which attempts to develop an understanding and appreciation for students with special needs. Characteristics of those with learning disabilities, physical challenges, behavioral disabilities, developmental delays, hearing and vision impairment, and giftedness are studied.
3


credits
General Education
General education from across the university
7


credits
Semester 4
Instructional Technology
Knowledge and skills to prepare students for responsible and beneficial use of current technologies. Fundamental understanding of importance of technology in teaching and learning practices. Relevant and practical technology applications for PreK-12 classrooms.
2


credits
General Education
General education from across the university
7


credits
Semester 5
Differentiated Instruction
The course will prepare teacher candidates to meet the diverse needs of ALL students, including the culturally diverse, gifted, at-risk, second language learner, and those with special needs, in inclusive educational settings. It will provide pre-service teachers an overview of special education and the federal laws which govern the education of these students today. Attention will be focused on the process of identifying the individual needs of students and creating effective teaching techniques to address those needs, primarily through the use of differentiated instruction.
3


credits
Psychology and Development of the Young Adolescent
The course focuses on 10 to 15-year olds as they are beginning the transformation from childhood to adolescence. Targeted developmental areas are physical/sexual, social, spiritual, emotional, and cognitive development.
2


credits
Semester 6
Reading Interests of Adolescents
Reading and discussion of literature appropriate for adolescents. Emphasis on young adult literature. Insights into using literature in the classroom.
3


credits
Adolescent Psychology and Development
The course presents an arranged sequence of psychological and development theories, concepts, and insights designed to inform the practitioner working with adolescents. The content and class interaction cumulatively examine adolescent behavior and belief systems. The aim is to assist the practitioner with grounded yet flexible decision–making when working with young people in the contexts of counseling, teaching, youth ministry, family, and community.
3


credits
Semester 7
Christian Teacher's Ministry
The course applies Biblical and theological principles of vocation, ministry, and the two kingdoms to the teacher of the church and the priesthood of all believers. Study of Scripture, standard historical documents, and current practice in calling, placement, and congregational life focuses on the identity of the teaching minister in parochial education and the Christian teaching in public and private education.
2


credits
Content Area Literacy
Considers the processes of reading in the various subject matter fields by which one recognizes words, copes with specialized vocabulary, comprehends, and uses printed information. Stresses the location of the student's present reading levels, the selection of instructional techniques to fit the learning style of the student, and the choice of materials appropriate for the ability level, reading levels, and interests of the secondary student. Assists the pre- service teacher in learning how to integrate the teaching of reading skills while teaching specific content. Field Experience required.
3


credits
Middle Level Core Subject Methods
Methods, materials, curriculum, curriculum development, and instructional strategies in the middle level classroom; emphasis on preparation of middle grades teachers for teaching math, science and social sciences in a middle grades classroom, both departmentalized and self- contained.
3


credits