Resilience in Education
Published by Concordia University, Nebraska 1 year ago on Mon, Mar 14, 2022 3:17 PM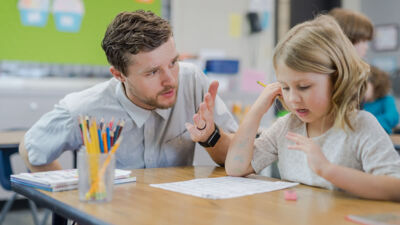 Why Trauma-Informed Teaching Is Important to Student Success
Adopting trauma-informed practices in schools, youth programs and churches is arguably more critical than ever. The COVID-19 pandemic has certainly presented unique challenges for the classroom and other educational contexts. As a result, the Centers for Disease Control and Prevention (CDC) has advised educators to adopt trauma-informed classroom strategies to ease the transitions between virtual and in-person learning and improve resilience in education.
Even before the shared traumas that the COVID-19 pandemic brought, trauma and adverse experiences were of increasing concern. In 2019, the CDC released an analysis of adverse childhood experiences that revealed trauma as a threat to public health. The CDC shared that 61% of adults it surveyed reported experiencing at least one type of adverse childhood event, with nearly one in six experiencing four or more types. The experiences included circumstances such as abuse, neglect, witnessing violence or growing up in a family with substance-use problems. In its analysis, the CDC found that these experiences were linked to chronic health problems, mental health concerns, substance abuse and reduced educational and occupational achievement.
Traumas do not have to be extreme, however, to affect student learning. Every student experiences setbacks that trauma-informed teaching practices in schools can help address to keep students on track. While educators and those who work with children are not mental healthcare professionals, they do play a pivotal role in helping students recover from negative life events socially and academically. By moving to trauma-informed practices, educators (as well as pastors, youth leaders and other adults) can foster a critical life skill in every student: resilience.
Resilience Theory and Trauma-Informed Classroom Strategies
Many educators are aware of how trauma can impact student success in the classroom. However, responding to trauma is usually seen as outside of educators' expertise. This perception shows we need more training in ways to build resilience in education—while still focusing on the goal of academic achievement, keeping in mind the well-being of the whole student.
One way to accomplish resilience in education is to approach teaching using Resilience Theory. Resilience Theory is an educational framework that prioritizes helping students create a positive self-concept. A positive self-concept, according to Resilience Theory, will aid students in recovering from negative events. Teachers help build a student's positive self-concept through trauma-informed teaching practices and strategies.
What Are Trauma-informed Teaching Practices?
Trauma-informed practices in schools are those that create safe, secure and consistent environments. From maintaining clear routines to showing cultural sensitivity, educators can employ a wide variety of trauma-informed classroom strategies to build resilience in teaching. You may, for example, seek to understand student misbehavior before disciplining them and offer them more choices in the classroom to minimize future unwanted behaviors. Such teaching practices are critical to establishing resilience in education—they empower students, establish structure and create an atmosphere of support, all of which are necessary for academic and personal growth.