How Instructional Technology Has Improved Education
Published by Concordia University, Nebraska 1 year ago on Mon, Feb 14, 2022 2:54 PM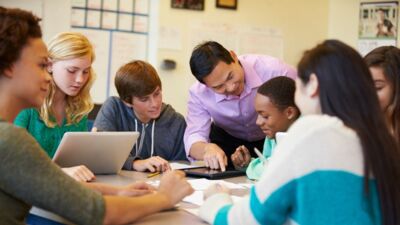 Technology has changed and improved many things in our world—education included. Educators are using instructional technology/technologies to transform how they teach and communicate. Through them, students also have new ways to connect with learning materials and collaborate with peers.
But what is instructional technology? Instructional technology/technologies can encompass both theory and digital tools for the classroom, including the science behind learning styles, the development and utilization of digital tools and the tools themselves. These tools can include everything from the Internet and tablets to web-based apps and electronic whiteboards.
Today's educators must be ready to take advantage of available digital tools for the classroom and to maximize their usage in innovative ways. Fortunately, most teachers understand this. According to Built In, an online network of tech professionals and tech companies, 92% of educators believe technology soon will significantly affect the way they teach. As technology continues to advance, so will its inclusion in the classroom—as well as the available jobs in instructional technology, should its power persuade you to pursue a career in its development or uses.
Now that you've had an introduction to what is instructional technology, we'll cover a variety of topics that delve into instructional technology in education. Learn how it's used in the classroom, how it can improve student outcomes and how you can add instructional technology/technologies to your teaching toolbox at Concordia University, Nebraska.
How Can Instructional Technology/Technologies Be Used in the Classroom?
Modern classroom technologies have come a long way from the large, shaky overhead projectors and giant tube TVs on rolling carts. What is instructional technology's role in classrooms today? Now, students, educators and those who hold a variety of jobs in instructional technology are harnessing digital tools for the classroom for everything from discussing the latest reading to turning in homework.
Educators like you are finding more uses for instructional technology in education. You can use these tools to assess and strengthen student learning. Such tools present opportunities for engagement and feedback, from classroom discussions to academic support for individual students.

Digital tools for the classroom can help you achieve a variety of teaching, learning and assessment goals, whether your classes are virtual, in-person or a hybrid, according to the Office of Educational Technology at the U.S. Department of Education.
So, what is instructional technology today? Let's take a deeper dive. Digital tools for the classroom include:
Electronic whiteboards
Learning management systems
Web-based applications
Computer devices, laptops and tablets
Online curricula
Videos and recorded lectures and lessons
Educational games
Video-chatting platforms
Training and support are paramount for integrating each of these forms of instructional technology in education. To help educators make the best use of these digital tools for the classroom, professionals holding a variety of jobs in instructional technology—such as instructional technologists and instructional designers—create exciting learning activities, interesting and relative curricula and more.
What Are the Benefits of Incorporating Instructional Technology in Education?
Whether you're teaching online or in person, digital tools for the classroom can help you better reach your students and make you a more effective teacher. As technology advances, so will the benefits of using instructional technology/technologies in the classroom.
In an online course setting, instructional technology/technologies will be your primary source of connection to your students. What is instructional technology going to change with in-person learning? In the classroom, your students also can benefit from instructional technology in education. Digital tools for the classroom can:
add avenues for collaboration and communication among students and their peers, as well as students and instructors;
enable students to participate in discussions, work together for projects and reports, and more;
give students around-the-clock access to course work;
enable students to ask questions in real time;
help students work at their own pace and revisit material as needed;
access videos from recorded lectures to other lessons, pause the video to take notes and replay whatever they would like to hear again;
engage with the material on a deeper level through an interactive learning environment; and
play games or solve puzzles to achieve a firmer grasp on the course work.
Instructional technology in education can help more than students; it can foster a more effective teaching environment for educators, too, those holding behind-the-scenes jobs in instructional technology find. For educators like you, digital tools for the classroom can:
help create paperless classrooms;
better assess student skills and individual needs through a variety of tools, including apps and online platforms that track and deliver student data directly to the teacher; and
better reach English language learners to help them gain and retain proficiency.
To fully realize the many benefits of instructional technology in education, educators like you must learn to use technology effectively in the classroom, as the Office of Educational Technology notes. That can begin with you and your studies at Concordia Nebraska.
Instructional Technology in Education at Concordia Nebraska
Whether it's using the latest instructional technologies or tailoring lesson plans to better fit various learning styles, educators are continuously refining their approaches in the classroom.
At Concordia Nebraska, our Online M.Ed. Curriculum & Instruction Program can help you expound on your teaching style, curriculum and assessments. Through this M.Ed. program, you can choose an area of specialization—including our Instructional Technology Leadership Endorsement. This pathway will help you explore how to lead the use of technology in schools and classrooms, as well as develop, implement and evaluate learning experiences to improve the learning process for students.
You'll also:
discover how to use instructional technology in education to improve learning experiences for your students;
learn how to spearhead the addition of new technologies at your school; and
earn a curriculum and instruction master's degree with value(s) that will help you lead and serve according to your personal ethics and morals.
Our faith-based program blends theory and pedagogy with research and application to help you develop the skills you need to foster lifelong learners.
Whether you're a new teacher or you have a decade of classroom experience on your resume, Concordia Nebraska can help you advance your technological skill set—and your career.
Learn more about what Concordia Nebraska can do for you. Request more information today.
Technology has changed and improved many things in our world—education included.