Distance Literacy Resources for Educators
Published by Dylan Teut 3 years ago on Mon, Mar 16, 2020 3:36 PM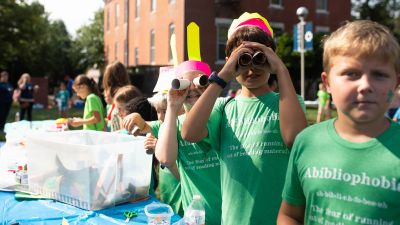 In the midst of school and library closures, we here at Concordia University, Nebraska and the Plum Creek Children's Literacy Festival understand the fears and concerns that caregivers, educators and librarians have while children will be separated from face to face learning and growing opportunities in their schools and communities until it is safe to do so again. Many resources and ideas have come to light in recent days which are designed to help parents with children at home and for teachers/librarians who are trying to help and teach in a new way from a distance. We have taken the time to compile some of these ideas and resources to help you nurture, foster, and continue to strengthen a love for reading, writing and drawing that can easily be implemented from many homes.
Of course, no virtual read aloud or app could replace the precious time you have face to face with your young readers. Take time to read aloud to students at all ages, from various sources. If your readers are engrossed in their own materials, spark discussions using prompts like,
"Tell me about what you're reading."
"Why did you choose this book to read now? What do you plan to read next?"
"Is there anything you're reading you have questions about or I might be able to help you with?"
Discussion is the best way to gauge a reader's comprehension and understanding of material they have. You may find that these discussion prompts reveal that your reader is not fully understanding what they're reading. In that case, support them the best they can to get through the material or help them select (from whatever resources you have available) a more appropriate text.
Encourage the readers in your family to create a "wish list" of books the readers in your home would like to read, but might not currently be able to access. Once schools and libraries are open again, you'll have your list ready and you'll be able to quickly get when you need to keep yourself engaged in great books!
Be sure to take advantage to writing tools and modes you have available or could obtain. Here are some things you can do together with paper, pens, pencils, markers or whatever your writer would like to use:
-Write a letter, story, paint/draw a picture for residents of local nursing homes or hospitals. Most facilities are boosting visitor restrictions, so residents can be quite lonely. Drop a bundle in the mail and spread cheer for the residents/patients to know they're loved!
-Use a mode of writing to each out to a loved one who may live farther away.
-Send a thank you note/picture to local officials and employees who are working round-the-clock to help communities with the outbreaks and safety precautions.
-Find an old photo and write about your memories of what was taking place at that time. If you are having trouble remembering, use your imagination!
-Keep a daily journal of what it was like to be at home during each day of the virus outbreak. Look for new words to describe how you're feeling each day. Stay tuned to age-appropriate news briefs or articles and include what's happening in the world. Someday, you may be able to look back at your journals and tell other generations of how you survived the pandemic!
Here are a wide range of digital resources that you can tap into- provided by publishers, authors/illustrators, and other generous literacy-minded individuals.
-A reminder that you can tap into your local public library's e-services if available. You may be able to borrow audiobooks and ebooks right on your device without leaving your home!
-Often times, you can find a lot of discussion guides, activity directions, further explorations that tie along with your favorite books. Poke around on the internet and see if the book's author/illustrator has resources on their webpage, and check the publishing house webpages for additional resources and tools. Once you start, you'll be amazed at what's available. Some good examples are:
-Many authors/illustrators are using modes of social media to read aloud their work. Caregivers may be able to use Facebok, Youtube, Instagram accounts to share video read alouds from the book creators and some are doing daily "live" broadcasts giving drawing tutorials, writing tips and reading aloud.
Some examples are virtual author visits with Ben Clanton, drawing broadcast daily with Jarrett J. Krosocszka, writing/notebook sharing with Amy Ludwig VanDerwater and daily fun with Mo Willems. These are just a few examples. If your favorite writer isn't listed here, try searching for them to see if they're planning on broadcasting or video sharing. Maybe they already have shared some videos and tips and you just haven't found them yet!
-A list of resources is being continually updated at Kate Messner's website
-Newsela, an Instructional Content Platform, has offered their entire product suite free (simply create a free account using your e-mail and start exploring!)
-Scholastic has created a free, open-access digital hub to encourage ongoing learning
-Literacy consultants/experts Kristin Ziemke and Katie Mutharis have established a Distance Learning Support resource with many tips and ideas that is continually being refreshed and updated.
These are uncertain times, but as you can see, you're not alone and there are so many helpers out there who are working hard to get the best materials and resources into your hands as quickly as they can as we wade through the pandemic day by day.
As always, we're here to help. If there's something you're looking for but don't see here in regards to nourishing readers who are at home, please don't hesitate to contact me. If I am able, I am happy to answer questions or provide further digital resources/ideas.
God bless you, and stay safe and healthy.