Business Development Manager: Career Description
Published by Concordia University, Nebraska 4 years ago on Wed, Oct 10, 2018 8:50 AM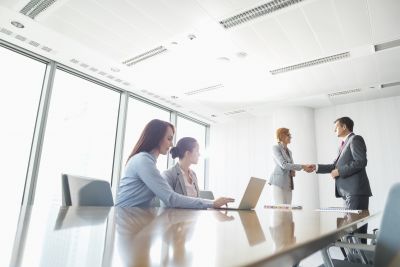 It takes a lot of talent and skills to make a business succeed, and in the business world, there's one job in particular that requires skillsets from multiple disciplines. It takes parts of marketing, sales, data analysis and more to create invaluable team members: business development managers.
What do business development managers do?
Business development managers help businesses grow sales, revenues and their competitive advantages. They do so by enhancing companies' product offerings and purchasing opportunities. Business development managers may hold any number of job titles, including business development executive, business development specialist or chief business development officer, but the responsibility of securing new clients and instilling brand loyalty for existing clients is always a staple of the job.
The role of business development manager combines aspects of a sales representative, a marketing analyst and a business analyst. They are responsible for sales and marketing, but also for strategic planning, finance and customer relations. If this job sounds diverse, it is. Sajeel Qureshi, Computan's VP of business development, described it as an "all-encompassing role" in an interview with career website Media Bistro. The varying facets of the job lend to a diverse work experience; business development managers may spend a few hours brainstorming product ideas with a product developer, and later in the day, they may work with marketing team members analyzing focus group and survey responses.
Though the day-to-day tasks of the job vary depending on the status of a project, there are a few tasks that remain largely the same. They form the core of the job description, which other duties can branch from. They include:
Networking to find new business opportunities and connections.
Fostering current client relationships.
Conducting market research and developing strategies based on that research.
Networking is arguably one of the biggest items on a business development manager's to-do list. In an interview with Forbes, Caesars Entertainment's Senior Vice President of National Meetings and Events Michael Massari said meeting face-to-face with clients is key. Negotiations and status reports, including updates on timeline and forecasted sales, are best when done in person but acceptable when done over the phone. Fostering new client relations, though, is all but required to be done in person. Because of the emphasis on networking for this position, some travel may be required. For those working with companies stationed in metropolitan areas, extensive travel may be at a minimum. For others working in smaller cities or towns, traveling to meet with clients is often likely.
What do they earn?
According to survey respondents on Payscale, the median annual salary for business development managers is $71,035, though several large companies offer salaries that go beyond that figure. Cisco Systems Inc. is reportedly the most desirable employer, and their median salary comes in around $148,000. Other big spenders include Google, Inc., Hewlett-Packard Company and Lockheed Martin Corp, where salaries range from $118,000 to $130,000.
Often, this position feeds into other high-level positions, such as sales director, business development director and marketing and business development manager.
What are the job requirements?
This job is not considered an entry-level position by most employers. Payscale survey respondents reported needing between 3 and 5 years of experience for the position, and some reported having as much as 10 years of experience in the field.
Experience isn't the only precursor for this position; a minimum of a bachelor's degree is required by many employers. The more desirable companies, such as Cisco Inc. and Google, expect candidates to also have an MBA.
With an MBA in Business Intelligence, candidates will become experts in applying statistical tools and cutting-edge technologies to guide businesses to greater success. With Concordia University, Nebraska's online program, you can earn your IACBE-accredited master's degree in as little as 18 months.