When you earn your Master of Public Health from Concordia University, Nebraska, you will learn how to provide quality education, research, service, and leadership to ultimately improve public health and diminish health disparities locally, nationally, and globally.
With an online M.P.H., you will:
Learn to develop, implement, and evaluate health programs, describe models and theories of health behavior, and apply principles and practice of effective health marketing and communication.
Improve population health by developing, implementing, and evaluating health strategies that educate, promote health, and prevent disease.
Acquire the knowledge and skills you need by combining theory and a 75-hour practicum to ensure you're fully prepared to promote and protect the health of individuals and communities.
Tailor your degree with a concentration in the population or sector you're most interested in serving.

Class Type
100% Online, 8-week courses
Protect and Improve the Health of Populations Worldwide
Request Free Program Info
Start your journey today by filling out this quick form and one of our enrollment counselors will be in touch soon.
Program Highlights
WHY CHOOSE CONCORDIA FOR A MASTER'S DEGREE IN PUBLIC HEALTH?
With an online graduate Master of Public Health degree in from Concordia University, you'll find a distinctive blend of faith-based training and real-world experience. You'll also:
Learn from faculty members that emphasize practical, values-based education with a Christian framework.
Master the five key domains of public health as recognized by the Association of Schools & Programs of Public Health: Biostatistics, Environmental Health Sciences, Health Policy & Management, Epidemiology, and Social & Behavioral Sciences.
Be able to tailor your degree with a concentration in the population or sector you're most interested in serving:

Master of Public Health, Community Health Education
Master of Public Health, Health Policy & Administration
Master of Public Health, Medication Safety & Pharmacovigilance

Medication Safety & Pharmacovigilance emphasis is offered in partnership with, and is only available through, Concordia University, Wisconsin.
MEET OUR EXPERT FACULTY
Learn from professional experts who bring faith, years of experience and specialized knowledge to the classroom.
MEET OUR STUDENTS
Monica T.
The Public Health program has not only expanded my knowledge of public health topics, but it has also invigorated my passion to make a significant contribution to the health and life of others.
RSVP to one of our next information sessions!
Information Sessions
Learn more about our programs at one of our next information sessions.
You may register for an information session by clicking "RSVP" next to your desired date and time.
Information sessions run approximately 20 minutes. During these meetings, we will discuss the program formats, application process, financial aid, payment plans and questions that you may have.
Accreditation
Concordia's online Master of Public Health degree is designed to meet the rigorous standards of the Commission on Accreditation of Healthcare Management Education.
LEARN MORE ABOUT ACCREDITATION
Degree Goals
An M.P.H. graduate from Concordia University, Nebraska will be able to: 
Design and implement public health programs.
Analyze and apply findings from medical literature and research.
Develop and assess healthcare strategies to promote health and wellness.
Conduct public health research ethically using the latest accepted methodologies.
Educate others on healthy behaviors.
Career Outcomes
The demand for informed, convenient healthcare means that the world of public health needs innovative leaders who understand the realities facing today's patients, providers and policymakers.
PUBLIC HEALTH EDUCATOR / HEALTH EDUCATION SPECIALIST
Teach people about behaviors that promote wellness.
Work with individuals one-on-one or with groups in schools or community programs.
Develop and implement strategies to improve the health of those you work with, collect data and discuss health concerns.
EPIDEMIOLOGIST
Investigate patterns of diseases and injury and look for their causes by collecting and analyzing data from observations, interviews, surveys and biological samples.
Communicate findings to the public, health practitioners, and policymakers.
FAQs
What can I do with Concordia Nebraska's public health degree?

A graduate degree in public health from Concordia Nebraska opens doors to several promising careers. According to the Bureau of Labor Statistics, "Overall employment of health

educators and community health workers is projected to grow 16 percent from 2016 to 2026, much faster than the average for all occupations." After earning your degree, potential job settings may include local, state or federal organization or health department, a nonprofit organization, hospital or research institution. The program can also add a new perspective to public health for your current profession.

Earning a Master of Public Health is essential to helping you fulfill your desire to take a leading role in serving others and promoting the health of populations. Public health careers are diverse, multi-disciplinary and offer a number of unique opportunities for a broad range of interests in the field.

Is a practicum required for Concordia Nebraska's public health degree?

Our online MPH program does require a three-credit practicum so you can gain valuable practical experience in the field of public health and broaden your knowledge base and exposure for future job opportunities. The practicum's 75 hours can be accrued in a flexible schedule for working professionals.
Is public health the right career path for me?

Public health is a fast-growing, broad field that covers a variety of professions, all of which involve making the world a better place for individuals and communities. As you gain a better understanding of how effective policies affect public health, you will discover how public health policies can be implemented and altered to promote healthier populations. Effective public health initiatives can reduce morbidity and mortality, decrease health expenditures, and inform and empower individuals, communities and populations to make healthy choices.

In addition, public health careers are rewarding. If you have a desire to create policies that will make a positive impact on the health of individuals or communities or create innovative prevention and health promotion initiatives, then a career in public health may be right for you.
Related Articles
Related Programs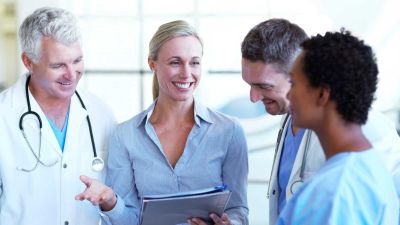 Master's in Healthcare Administration
Become a leader in the complex and dynamic field of healthcare. Earn a Master's in Healthcare Administration degree taught through a Christian ethics framework.